Betty Grable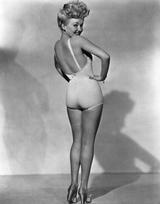 Betty Grable, 1943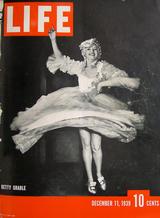 Betty Grable, 1939/12/11 in Life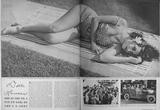 Dorothy Lamour, 1941/07/07 Life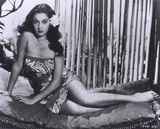 Dorothy Lamour, 1941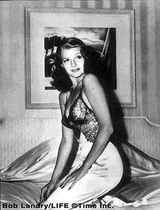 Rita Hayworth, 1941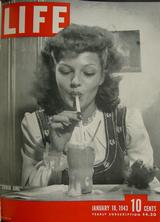 Rita Hayworth, 1943/12/18 in Life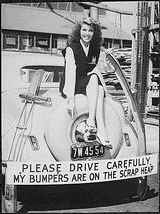 Rita Hayworth, 1942, NAIL

Elizabeth Ruth Grable was born Dec. 18, 1916, in St. Louis. Her father became a successful grain broker and her mother Lillian pushed Betty into dancing and vaudeville at an early age. In 1929 she and Betty moved to Hollywood when the Golden Age of sound movies, the Star-Studded Revue and the Technicolor musical was beginning. Although only 5'4" tall and 13 years old, Betty was hired as a Fox chorus girl at $50 a week to dance in Happy Days and Let's Go Places. After working in films for Eddie Cantor and Busby Berkeley, she signed a 5-year contact in 1934 with RKO. Betty worked for most of the major studios in the 1930s but did not become a star until 1939: she signed with Darryl F. Zanuck at Twentieth Century Fox in July; divorced Jackie Coogan in October; starred in a Broadway play that opened Dec. 6; appeared on the cover of Life magazine Dec. 11. Her "Big Break" came when she returned to Hollywood to replace the injured Alice Faye in Zanuck's film Down Argentina Way that was released in 1940, her first color film, and her star continued to rise as "The Screen's Most Beautiful Blonde." The film was also the debut for the "Brazilian Bombshell" Carmen Miranda, and was supposed to be a contribution to Nelson Rockefeller's Good Neighbor Policy. But Argentina and Brazil were not pleased with the glib portrayal of South Americans doing nothing but dancing rhumas, racing horses, and chasing after blonds. Betty Grable would make dozens of routine color musicals for Fox over the next decade and earn the studio over $100 million. She became the No. 1 female box office attraction in 1942, 1943, 1944 and remained in the Top 10 for the next decade.
In 1942, according to Larry Billman, "World War II was raging around the globe and escapist films were being manufactured in Hollywood as quickly as possible. Betty's ingratiating freshness and beauty appealed strongly to the American G.I.s stationed overseas and her films were eagerly requested by the lonely servicemen. . . . Although she never toured outside the United States for the U.S.O., Betty actively participated in War efforts, appearing at Camps across the country and at Bond Rallys where she auctioned off her nylons for thousands of dollars. Volunteering at the Hollywood Canten, a club for servicement staffed entirely by film stars and studio workers, she 'Jitterbugged' the night away with hundreds of soldiers, sailors and marines" (pp.11-12). Her fan mail often reached 10,000 letters per week, and in 1942 she sent 54,000 autographed photos to the soldiers at Camp Robinson, Arkansas, who had sent her 54,000 letters. She dumped boyfriend-actor George Raft and married the bandleader Harry James July 5, 1943. A popular GI slogan during the war became " I want a girl just like the girl that married Harry James." Their daughter Victoria was born March 4, 1944.
It was early in1943 that Frank Powolny photographed the famous full-length back pose of Betty Grable looking over her shoulder. Many stories have been told about the origin of the most famous "Pin Up" picture in American history: that she was pregnant and tried to hide her stomach; or, that she was finished with the photo session and had turned her back to walk out of the studio, saying "That's it!"; or, that she turned to smile at Darryl F. Zanuck who had entered the studio unexpectedly; or, that it was a costume shot for the film Sweet Rosie O'Grady released Oct. 1, 1943. Whatever the origin, the studio circulated floods of prints of the pose; most were dated "1943" and they became an instant hit. Unlike the French postcards of WWI secretly collected by American doughboys, the pinups of WWII were out in the open and sanctioned by the government. Photos of Rita Hayworth from the Aug. 11, 1941, issue of Life magazine were allowed to decorate airplane cockpits and army barracks. Life had coined the term "pinup" in the July 7, 1941, special issue on National Defense and annointed "Dottie" Lamour as the nation's first official pinup girl. Betty Grable's 1943 image would far surpass these in fame. According to Doug Warren, the Fox studio put "about five million copies of the famous pose in GI hands during the war, and the over-the-shoulder pose was the only one that was used for this purpose. Powolny believes the term 'pinup' was born with this Betty Grable photo. Betty was a representation of the girl-back-home for thousands of homesick young lads. For some, she may have been their only infatuation, the last girl they had ever lusted for, loved, or adored. She was company on a cold night, comfort at times of pain. Betty had an idea she was admired by the GIs, but had no way of knowing exactly how much. It was more than the sexy picture that enamored them of her; there was a magical wholesomeness and substance they saw beyond the curves of her figures. It was her very essence that was loved" (p. 79).
The New York Times wrote Oct. 21, 1943, about her in the film Sweet Rosie O'Grady that it offered "Miss Betty Grable of the legs divine in an hour-and-a-half long display of assorted poses, suitable for pin-up." Zanuck released the film Pin Up Girl on May 10, 1944, to capitalize on the famous photo, and used the photo to publicize many of the wartime films of the Fox studio. Her yearly salary of $320,000 by 1947 made her the highest paid salaried woman in America. However, her contract with Fox ended in 1953 as the studio began to feature a new "blond bombshell" by the name of Marilyn Monroe. Betty moved to Las Vegas and made appearances on television and in nightclubs in the 50s, and on stage in the early 60s. She divorced Harry James in 1965 and suffered financial decline, but continued working on tours and stage shows, and doing TV commercials for Geritol, until her death from cancer in 1973.
Sources:
Billman, Larry. Betty Grable: a bio-bibliography. Westport, Conn.: Greenwood Press, 1993.
"Cover Girl," Life, Jan. 18, 1943.
"Dottie Lamour is the no. 1 pin-up girl of the U.S. Army," Life, July 7, 1941, p. 34.
"Harvesting bumper crop for Uncle Sam. Movie star Rita Hayworth sacrificed her bumpers for the duration. Besides setting an example by turning in unessential metal car parts, Miss Hayworth has been active in selling war bonds." 1942 (photo NWDNS-208-PU-91B-5 from RG208, National Archives NAIL)
"Rita Hayworth rises from bit parts," Life, August 11, 1941, p. 33, with photo by Bob Landry of Rita kneeling on a bed, to promote the Fox film Blood and Sand.
Warren, Doug. Betty Grable, the Reluctant Movie Queen. New York : St. Martin's Press, 1981.
Westbrook, Robert B. "'I Want a Girl, Just Like the Girl that Married Harry James': American Women and the Problem of Political Obligation in World War II," American Quarterly 42/4 (Dec. 1990) 587-614.
---
Timeline start | Links | Pictures | Maps | Documents | Bibliography | revised 8/2/01 by Schoenherr