Port Royal Experiment
1861
Apr. 27 - Silas H. Stringham bombarded Cape Hatteras, NC., and Ben Butler with 900 soldiers landed to occupy the first southern territory to be liberated by the North.

May 24 - Ben Butler accepted former slaves as "contraband of war" at Fortress Monroe, VA.

Aug. 30 - John C. Fremont in Missouri ordered the confiscation of Confederate property and liberated slaves, but Lincoln countermanded Fremont's order.

Nov. 7 - Samuel du Pont commanded Union fleet that took Port Royal, SC.

Dec. 20 - Secretary of Treasury Salmon Chase sent Col. William H. Reynolds to Port Royal to collect abandoned cotton, prevent slaves from destroying plantations and gins. There were 939 property owners in the four parishes of the Beaufort District with 883,048 acres of improved land and 33,339 slaves (most owned by 20% of the property owners).
1862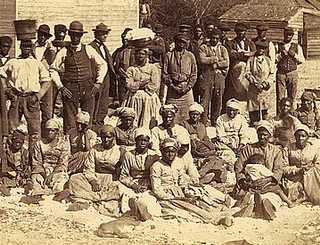 1862 Hilton Head, SC from LC
Jan. 15 - Gen. Thomas Sherman wrote letter requesting teachers for the ex-slaves on plantations under Union control, and northern churches sent the Gideon missionaries to Port Royal. Tappans and AMA sent Rev. Mansfield French, and began recruitment of "Gideon's Band" of missionaries. Most aid and volunteers would come from New England to remake the South in the image of Bostonian culture (Lewis Simpson book).

Mar. 2 - Steamship Atlantic left New York City with 53 missionaries of "Gideon's Band" including 12 women, paid salary of $50 per month.

Mar. 9 - Secretary of Treasury Salmon Chase appointed Boston attorney Edward L. Pierce to begin the "Port Royal Experiment" of schools and hospitals, and allowed plantations to be run by the former slaves; paid blacks $1 per 400 lbs. cotton.

Apr. 15 - The Port Royal Relief Committee of Philadelphia sent funds in the care of Miss Laura Matilda Towne. The Penn School was founded on St. Helena Island, the oldest missionary school of the Port Royal Experiment.

Apr. 25 - Harriet Ware wrote letter describing her visit to a plantation "Praise House" on Port Royal Island where slaves had gathered to pray and dance "shouts" and sing spirituals. The missionaries debated if shouts were legitimate religion or idol worship, and they failed to understand the Gullah dialect of the Sea Islands.

May 1 - Ben Butler took over occupation command in New Orleans.

May 9 - David Hunter ordered all slaves freed in occupied territories of his Department of the South, and began the forced conscription of black soldiers into the 1st South Carolina Colored Regiment, but Lincoln revoked this order May 19.

May 13 - Robert Small delivered the Confederate gunboat Planter to the Union navy.

May 30 - Rufus Saxton replaced Edward Pierce at Port Royal.

June 16 - Confederate defenders of the earthenworks protecting Charleston at Secessionville on James Island defeated a Union attack by David Hunter; the North lost 683 casualties of 3500 troops, the South lost 204 of 1250 troops.

July 3 - Hunter lost 10,000 troops transferred to VA, pulled back to Edisto Island.

July 17 - Congress passed the Confiscation Act and the Militia Act that authorized emancipation and allowed the formation of black troops. Saxton sent Thomas Wentworth Higginson throughout New England to recruit black soldiers.

Sept. 17 - Battle of Antietam.

Sep. 22 - Lincoln presented his Emancipation Proclamation to the cabinet.

Sept. 27 - Ben Butler organized the 1st and 2nd and 3rd Louisiana Native Guard Regiments in New Orleans that became the first official black federal regiments.

Oct. 27 - James Lane led the 1st Kansas Colored Volunteer Regiment in battle at Island Mound near Butler, MO.


1863
Jan. 1 - President Lincoln officially proclaimed the Emancipation Proclamation.

Jan. 20 - Secretary of War Edwin M. Stanton authorized Gov. John A. Andrew of MA to recruit black soldiers.

Jan. 26 - Thomas Wentworth Higginson sent his 1st South Carolina Colored Volunteer Regiment to fight at Township, FL, and later on Jan. 31 were officially mustered in at Beaufort.

Mar. 1 - Gen. Ormsby Mitchel allowed blacks at Port Royal to move out of military barracks into own housing; town of Mitchelville founded near the Drayton Plantation, grew to population of 1500 by 1865.

Mar. 21 - Frederick Douglass issued his "Men of Color, To Arms" declaration, and began to recruit troops, including his sons Charles and Lewis.

Mar. 30 - The 54th Massachusetts Volunteers joined the Union Army.

May 18 - The 1st Kansas Colored Volunteer Regiment fought at Sherwood, MO.

May 22 - The War Department established of Colored Troops of black regiments commanded by white officers; by the end of the war, 166 black regiments would be organized with 178,000 black soldiers. The Navy would enlist 10,000 black sailors.

June 1 - The Louisiana Native Guards and Africa Corps fought at Port Hudson, LA.

June 3 - 54th Regiment arrived in Beaufort, helped burn town of Darien, GA June 11. June 7 - The 9th and 11th Louisiana Colored Volunteer and the 1st Mississippi Colored Volunteer Regiments fought at Milliken's Bend, LA.

July 13 - New York City draft riots; white mobs beat to death the nephew of Sgt. Robert Simmons who would die 3 days later at Fort Wagner.

July 17 - The 1st Kansas Colored Volunteer Regiment fought at Honey Springs in the Indian Territory.

July 18 - The 54th Massachusetts Volunteers fought at Fort Wagner, SC.


1864
April 12 - Massacre of black soldiers at Fort Pillow, TN.

Sept. 29 - 13 black regiments fought at New Market Heights, or Chaffin's Farm in VA, and 13 African Americans were awarded the Medal of Honor.

Nov. 30 - The 54th and 55th Massachusetts Volunteers and the 32nd, 35th, and 102nd U.S. Colored Infantry Regiments fought at Honey Hill, SC.

Dec. 3 - The all-black 25th Army Corps was created.

Dec. 21 - The 3rd U.S. Colored Cavalry led the Second Grierson Raid from Memphis to Vicksburg.


1865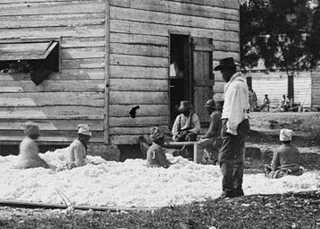 Mar. 31 - 11 Colored Infantry Regiments fought at Fort Blakely, Alabama.

May 12 - Oliver O. Howard commanded the Freedman's Bureau.

Dec. 18 - The 13th Amendment was ratified.


Sources:
Click, Patricia C. Time Full of Trial; The Roanoke Island Freedmen's Colony, 1862-1867. University of North Carolina Press, 2001.
Cornish, Dudley Taylor. The Sable Arm: Black Troops in the Union Army, 1861-1865. University Press of Kansas, 1956.
Rose, Willie Lee. Rehearsal for Reconstruction; the Port Royal Experiment. Indianapolis: Bobbs-Merrill, 1964.
Simpson, Lewis. Mind and the American Civil War: a Meditation on Lost Causes. Louisiana State University Press, 1989.
Links:
---