Band of Brothers
Produced by DreamWorks SKG and 20th Century Fox on a budget of $125 million for TV broadcast starting Sept. 9, 2001, by HBO in 10 episodes, 600 minutes.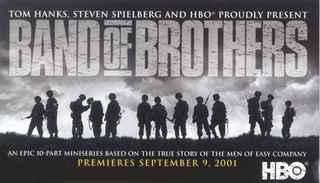 HBO's Band of Brothers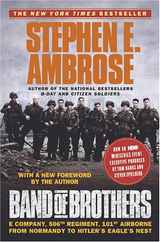 Ambrose's Band of Brothers
Production:
Produced by Steven Spielberg, Tom Hanks
Written by Stephen Ambrose (from his 1992 book)
Original music by Michael Kamen
Cinematography by Remi Adefarasin, Joel Ransom
Film Editing by Billy Fox, Oral Norrie Ottey, Frances Parker, John Richards
Sound Editing by Paul Conway
Production Design by Anthony Pratt
Art Direction by Kevin Phipps
Special Effects by Joss Williams
Visual Effects at Mill Film London
Military Adviser Capt. Dale Dye
Cast:
Damian Lewis as Major Richard Winters
Donnie Wahlberg as 2nd Lieutenant Carwood Lipton
Ron Livingston as Captain Lewis Nixon
Matthew Settle as Captain Ronald Speirs
Rick Warden as 1st Lieutenant Harry Welsh
Frank John Hughes as Staff Sergeant Bill Guarnere
Scott Grimes as Technical Sergeant Donald Malarkey
Neal McDonough as 1st Lieutenant Lynn "Buck" Compton
Rick Gomez as Sergeant George Luz
Eion Bailey as Private 1st Class David Webster
James Madio as Sergeant Frank Perconte
Kirk Acevedo as Staff Sergeant Joseph Toye
Michael Cudlitz as Sergeant Denver "Bull" Randleman
Richard Speight Jr. as Sergeant Warren "Skip" Muck
Dexter Fletcher as Staff Sergeant John Martin
Ross McCall as Corporal Joseph Liebgott
Shane Taylor as Corporal Eugene Roe, medic
Peter McCabe as Corporal Donald Hoobler
Robin Laing as Private Edward 'Babe' Heffron
Matthew Leitch as Staff Sergeant Floyd Talbert
David Schwimmer as Captain Herbert Sobel
Marc Warren as Private Albert Blithe
Peter Youngblood Hills as Staff Sergeant Darrell "Shifty" Powers
Mark Huberman as Private Lester "Leo" Hashey
Dale Dye as Colonel Robert Sink
Nicholas Aaron as Private 1st Class Robert "Popeye" Wynn
Ben Caplan as Corporal Walter "Smokey" Gordon
Mark Lawrence as Staff Sergeant William Dukeman
Tim Matthews as Private 1st Class Alex Penkala
Douglas Spain as Private Antonio Garcia
Michael Fassbender as Technical Sergeant Burton "Pat" Christenson
Craig Heaney as Private 1st Class Roy Cobb
Colin Hanks as 2nd Lieutenant Henry Jones
Nolan Hemmings as Staff Sergeant Charles Grant
Doug Allen as Private 1st Class Alton More
Bart Ruspoli as Private 1st Class Edward Tipper
Matt Hickey as Private Patrick O'Keefe
Simon Schatzberger as Private 1st Class Joseph Lesniewski
Rocky Marshall as Corporal Earl McClung
Andrew Scott as Private John 'Cowboy' Hall
George Calil as Private 1st Class James "Mo" Alley
Phil Barantini as Sergeant Wayne "Skinny" Sisk
Tom Hardy as Private 1st Class John Janovek
Andrew Lee-Potts as Private Eugene Jackson
David Nicolle as 2nd Lieutenant Thomas Peacock
James McAvoy as Private 1st Class James Miller
Phil McKee as Lieutenant Colonel Robert Strayer
Adam James as Private Cleveland Petty
Stephen Graham as Sergeant Myron 'Mike' Ranney
Dave Power as Private Rudolph Dittrich
Tony Devlin .... Private 1st Class Ralph Spina, medic
Stephen McCole as 1st Lieutenant Fredrick "Moose" Heyliger
Simon Pegg as 1st Sergeant William Evans
Peter O'Meara as 1st Lieutenant Norman Dike
Jamie Bamber as 2nd Lieutenant Jack Foley
Rene L. Moreno as Private Joseph Ramirez
Simon Fenton as Private Gerald Lorraine
Jimmy Fallon as 2nd Lieutenant George Rice
Jason O'Mara as 1st Lieutenant Thomas Meehan
Doug Cockle as Father John Maloney
Nigel Hoyle as Staff Sergeant Leo Boyle
Alex Sabga as Corporal Francis Mellet
Kieran O'Brien as Private Allen Vest
Ezra Godden as Private Robert Van Klinken
Iain Robertson as Private George Smith
Luke Griffin as Sergeant Terence 'Salty' Harris
Matthew Duquenoy as C-47 Pilot
Michael Edmiston as Training Jumpmaster
Diana Kent as Mrs. Lamb, English Laundress
Matthew Faber
Josefien Hendriks as Dutch girl (Episode 4) (as Josefine Hendriks)
Wil Röttgen as Field Marshal Erwin Rommel
Ben Peyton as Warrant Officer Andrew Hill
William Tapley as Captain Paige, British Tank Commander
Ian Virgo as Soldier
Stephen Walters
Jack Wouterse as Dutch farmer (Episode 4)
Dan van Husen as Alleged Commandant
David Crow as Corporal Nicksons
Ben Montague as Private Matt McDowell
Stephen Milton
Laird Macintosh as Jeep Driver (Part 6)
Corey Johnson as Major Kent
Andrew Howard as Captain Clarence Hester
Jamie Harding as French boy (Episode 5)
Isabella Seibert as German girl (Episode 9)
Lucie Jeanne as Renee Lemaire
Wolf Kahler as German General
Marcos D'Cruze as Joseph P. Domingus
Luke Roberts as Herbert J. Suerth
Tom Hanks as British Officer
Notes:
This TV miniseries is based on the true story of Easy Company in the 506th regiment of the Army's 101st Airborne Division from 1942 to 1945. It was filmed on the 1100 acre lot at the Hatfield Aerodrome in Hertfordshire, England, where Spielberg made the 1998 Saving Private Ryan. A 12-acre village was built to represent the 11 European villages of World War II. Tanks and vehicles or the period were constructed and blown up. Uniforms and weapons were made for the 500 speaking roles and 10,000 extras. HBO spent $12 million per episode when normal TV episodes cost $1-2 million per hour. The final budget of $125 million exceeded the $60 million that HBO spent on Hanks' 12 From the Earth to the Moon episodes in 1998, or the $70 million that Dreamworks spent on Spielberg's Saving Private Ryan in 1998. The first episode was televised Sept. 9, and was watched by 10 million viewers, but after Sept. 11, viewers dropped to 6-7 million per episode. It is the 2nd most-watched HBO series, behind The Sopranos. HBO plans to re-broadcast the series in March 2002 and release VHS and DVD version in the summer of 2002.
The film begins with Easy Company training for 13 weeks at the paratrooper camp at Toccoa, GA, from August to November1942. The strict Lt. Sobel makes the men run "three miles up, three miles down" on Mount Currahee, and"Currahee" becomes the company's battle cry. After training in Toccoa, the company marched 110 miles to Atlanta, then to jump school at Fort Benning, then more training in Alabama before heading to England. On June 6, 1944, under acting company commander Dick Winters, the men parachute behind German lines in France on D-Day. Winters leads an assault on a German artillery position. Two days later, they attack the town of Carentan, return to England, then sent back to France. New replacements join the unit for the parachute jump into Holland as part of Operation Market Garden. Winters is promoted to batallion exec officer and paratroopers are sent to the Ardennes to hold Allied lines in the Battle of the Bulge. The men suffer cold and casualties from German artillery in the forest outside Bastogne, and medic Eugene Roe makes friends with a Belgian nurse. After the Bulge, an incompetent commander Lt. Dike causes more casualties in the attack on the town of Foy. In Alsace, West Pointer Lt. Jones joins a patrol to take prisoners across a river. The Americans enter Germany, liberate a concentration camp, learn Hitler is dead. Their last mission is the the Eagle's Nest in Berchesgarten, Austria. When the European war ends, some men have enough points to go home but others will be deployed to the Pacific.
Links:
Credits from the IMDB for the title Band of Brothers
Sites from Time
Band of Brothers from Peter van de Wal, English version
Confessore, Nicholas. "The Greatest Generation's Historian," American Prospect, volume 12, Issue 17, September 24-October 8, 2001.
HBO films on WWII include Conspiracy
Spielberg films on WWII include the comedy 1941 (1979) and Raiders of the Lost Ark (1981) and Empire Of The Sun (1987) and Schindler's List (1993) and Saving Private Ryan (1998)
Ambrose books on WWII include The Supreme Commander (1970) and Ike's Spies (1981) and Pegasus Bridge (1985) and D-Day (1994) and Citizen Soldiers (1997) and The Wild Blue (2001)
---