Mann Chinese Theatre in Hollywood, 6925 Hollywood Blvd.
The world's most famous movie palace was built in 1927 with 1500 seats.
---
Mann Village Theatre in Westwood, 961 Broxton Avenue, Los Angeles 90024.
The original Fox landmark was built in 1931 with 1300 seats, 70-foot screen, and superb acoustics.
---
Century 21 Dome in San Jose
This 1000-seat circular theater with stadium seating and a 70-ft. screen was built in 1964 for Cinerama, remodeled in 1997 with one of the best sound systems in the Bay region.
---
Edwards IMAX 3D Theater in the Irvine Spectrum Center.
---
Other Notable Theaters
The Egyptian 1922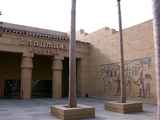 The Egyptian 2001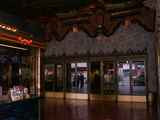 El Capitan 2001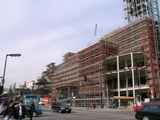 Hollywood's Revival

Beverly Hills -- Samuel Goldwyn Theater
Academy of Motion Picture Arts and Sciences
8949 Wilshire Boulevard, Beverly Hills, CA

Century City -- Century Plaza 4 Cinemas
2040 Avenue of the Stars, Los Angeles 90067

Hollywood -- American Cinematheque Egyptian Theater
6712 Hollywood Boulevard, Hollywood, CA 90028
http://americancinematheque.com/egyptian/egypt.htm

Hollywood -- El Capitan
6838 Hollywood Boulevard, Hollywood

Hollywood -- Pacific Cinerama Dome
(restoration of the 86x32-ft. screen due 2002)
6360 Sunset Boulevard, Hollywood 90028

Los Angeles -- Orpheum
842 S. Broadway

Los Angeles -- Paramount Studios Main Screening Room
5555 Melrose Avenue, Los Angeles, CA

Los Angeles -- LA County Museum of Art Bing Theater
5905 Wilshire Boulevard, Los Angeles, CA 90036

San Francisco -- Dolby Laboratories Screening Room
100 Potrero Street, San Francisco, CA

Universal City -- Cineplex Odeon 18 Cinema
100 Universal City, Universal City 91608

Westwood -- Mann Bruin Theatre
948 Broxton Avenue, Los Angeles 90024

Westwood -- Mann National Theatre
10925 Lindbrook Drive, Los Angeles 90024
Sources:
Best California theaters from the Movie Sound Page
Silverman, Stephen M. The Last Remaining Seats: Movie Palaces of Tinseltown. Balcony Press, 1997.
Willman, Chris. "Kings of the Big Screen," Los Angeles Times, June 16, 1996.
---
© 2001 by Steven E. Schoenherr. All rights reserved.

---
digital photos by Schoenherr | Filmnotes | this page revised 01/21/01