The Bridge on the River Kwai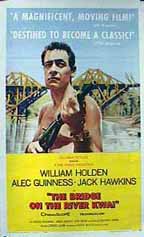 An epic film based on the true story of prisoners of war in 1943 forced to build the Bangkok-Rangoon railway bridge over the Kwai river in the Burma-Thailand jungle. Filmed in Ceylon, the movie bridge was built in 8 months by 500 workers and 35 elephants, at a height of 50 feet above water and 425 feet long. The real bridge near Kanchanaburi,Thailand, is a different bridge than the movie version. It was built over several months starting October 1942 by slave labor civilians and POWs as part of the Death Railway to supply Japanese troops in Burma from Rangoon. Low to the water, constructed of steel and concrete, the bridge was not blown up but remains today as a usable bridge and tourist attraction. According to survivor Fred Seiker, "The railway was completed on the 17th October 1943 at Konkuita in Thailand, not far from the Three Pagodas Pass. l shall not enter into the statistics or technical data or the final death toll of the various countries involved; these have been extensively quoted in numerous publications, only to state that the railway was 415km long and built from scratch in just 16 months. (A previous assessment, carried out by British Engineers was 5 years.). The total labor force consisted of about 68,000 Allied POWs and 200,000 Asian laborers. The combined death toll was around 96,000, of which 18,000 were Allied POWs. Consider for just a moment how these human beings died, where they died and, above all, why they died."
Released by Columbia Pictures 1957, CinemaScope, stereo 6-track sound, 155 mins.
Production:
Directed by David Lean
Written by Carl Foreman and Michael Wilson (both were blacklisted and uncredited until 1987) from the Pierre Boulle novel Le pont de la riviere Kwai
Produced by Sam Spiegel
Cinematography by Jack Hildyard
Film Editing by Peter Taylor
Sound by John Cox
Art Direction Donald M. Ashton
Original music by Malcolm Arnold
Music performed by Royal Philharmonic Orchestra
Bridge construction by Equipment and Construction Co. of Ceylon
Consulting engineers for the bridge: Husband & Co. of Sheffield

Cast:
William Holden as Shears
Alec Guinness as Colonel Nicholson
Jack Hawkins as Major Warden
Sessue Hayakawa as Colonel Saito
James Donald as Major Clipton
Geoffrey Horne as Lieutenant Joyce
André Morell as Colonel Green
Peter Williams as Major Reeves
John Boxer as Major Hughes
Percy Herbert as Grogan
Harold Goodwin as Baker
Ann Sears as Nurse
Henry Okawa as Captain Kanematsu
Keiichiro Katsumoto as Lieutenant Miura
M.R.B. Chakrabandhu as Yai
---
Links:
Sources:
Davies, Peter N. The Man Behind the Bridge: Colonel Toosey and the River Kwai. London ; Atlantic Highlands, NJ : Athlone Press, 1991.
Kinvig, Clifford. River Kwai Railway: the story of the Burma-Siam Railroad. London ; Herndon, VA : Brassey's Inc. ; 1998.
La Forte, Robert S. and Ronald E. Marcello, eds. Building the Death Railway: the Ordeal of American POWs in Burma, 1942-1945. Wilmington, Del. : Scholarly Resources, 1993.
---