Gangs of New York
Produced and distributed Dec. 20, 2002, by Miramax Films on budget of $97 million, color 35mm negative, 1.85:1 screen ratio, digital 5:1 sound, 160 mins.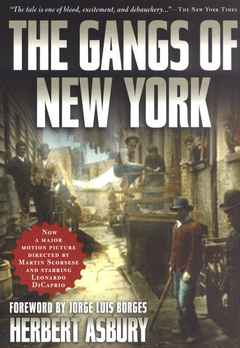 Production:
Directed by Martin Scorsese
Screenplay by Jay Cocks, Steven Zaillian, Kenneth Lonergan; based on the 1928 book by Herbert Asbury (1889-1963)
Produced by Alberto Grimaldi
Original Music by Bono (song "The Hands That Built America"), Peter Gabriel, Howard Shore (song "Brooklyn Heights")
Cinematography by Michael Ballhaus
Film Editing by Thelma Schoonmaker
Sound by Philip Stockton
Production Design by Dante Ferretti
Art Direction by Robert Guerra, Stefano Maria Ortolani
Set Decoration by Francesca LoSchiavo
Costume Design by Sandy Powell
Cast:
Leonardo DiCaprio as Amsterdam Vallon
Daniel Day-Lewis as Bill the Butcher
Cameron Diaz as Jenny Everdeane
Jim Broadbent as Boss Tweed
John C. Reilly as Happy Jack
Henry Thomas as Johnny Sirocco
Brendan Gleeson as Monk
Roger Ashton-Griffiths as P.T.Barnum
Gerry Robert Byrne as Draft Official
Brennan Caitlin as Hot Corn Girl
Liam Carney as Fuzzy
Ilaria D'Elia as Jenny's Girl
Andrew Gallagher as Young Johnny Sirocco
Robert Goodman as Forty Thieves Gang Leader
Stephen Graham as Shang
Gary Lewis as Charles McGloin
Gary McCormack as Stick
Liam Neeson as Priest Vallon
Raffaella Ponzo as Johnny's girlfriend
Cara Seymour as Hellcat Maggie
Donald Stewart as Anatomist
Dominique Vandenberg as Tommy
Notes:
The film is a fictional crime narrative based on the history of the Five Points slum in Manhattan from 1846 to the New York draft riots of 1863. Martin Scorcese has produced Raging Bull, Goodfellas, Casino, The Age of Innocence, and was inspired in the 1970s to dramatize the history book of Herbert Asbury, who also wrote similar histories of gangs in Chicago (The Gangs of Chicago) and in San Francisco (The Barbary Coast). At the Cinecitta studios in Rome, production designer Dante Ferretti built a recreation of the Bowery and Paradise Square district of antebellum New York, the largest set constructed at the studio since Cleopatra in 1961. Scorcese began filming in 2000 but would not finish post-production editing until 2002. Daniel Day-Lewis plays Bill Poole, leader of the Native American party, and a butcher by profession. "Butcher Bill" was skilled at hitting targets with a knife from 20 feet, and was also skilled at alliances with corrupt politicians in Tammany Hall such as Boss Tweed. Lenny DiCaprio plays Amsterdam Vallon, son of Priest Vallon, played by Liam Neeson, the leader of the Dead Rabbits gang who was murdered by Poole. Cameron Diaz plays Jenny, girlfriend of Lenny and a pickpocket.
Links:
---
revised 11/30/02 by Schoenherr | Filmnotes