The Jazz Singer
Produced by Warner Bros. and the Vitaphone Corporation for $500,000, released in 1927 by Warner Bros. and grossed $2,500,000, Academy 4:3 screen ratio in black and white, mono sound, 88 mins.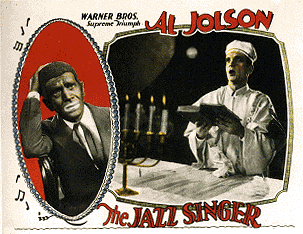 poster from Filmsite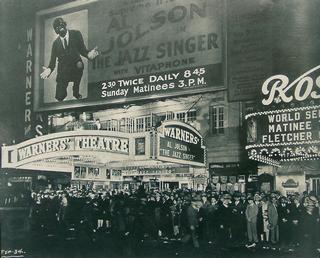 Jazz Singer premier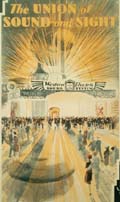 Western Electric ad
Production:
Directed by Alan Crosland
Written by Alfred A. Cohn, based on the story and play "The Day of Atonement" by Samson Raphaelson
Cinematography by Hal Mohr
Film Editing by Harold McCord
Music directed by Louis Silvers
Academy Award to Warner Brothers - Special Award for "the pioneer talking picture, which has revolutionized the industry"
remade as The Jazz Singer in 1952 with Danny Thomas, and as The Jazz Singer in 1980 with Neil Diamond
Cast:
Al Jolson as Jakie Rabinowitz (Jack Robin)
Bobby Gordon as Jakie Rabinowitz (age 18)
Warner Oland as Cantor Rabinowitz
Eugenie Besserer as Sara Rabinowitz
May McAvoy as Mary Dale
Otto Lederer as Moisha Yudelson
Richard Tucker as Harry Lee
Cantor Joseff Rosenblatt as Himself
Notes:
This film was not the first sound film. Eugene Lauste made sound films 1910-1914, Edison made kinetophone films in 1913, Western Electric showed "The Audion" at Yale on Oct. 27, 1922, and made "Hawthorne: in 1924, Warner made the Vitaphone short "The Volga Boatman" May 24, 1926, and released "Don Juan" on August 6, 1926. Fox began releasing sound newsreels Jan. 21, 1927. The "Jazz Singer" opens with young Jakie Rabinowitz, the son of a Jewish cantor, singing in a saloon. His father demands that Jakie become a traditional cantor. Jackie runs away from home and becomes the jazz singer Jack Robin, played by Al Jolson.
Links:
References:
Gabbard, Krin. Jammin' at the Margins: Jazz and the American Cinema. University of Chicago Press, 1996.
Gabler, Neal. An Empire of their Own: How the Jews Invented Hollywood. New York: Crown Publishers, 1988.
Giddins, Gary. Visions of Jazz: the First Century. New York: Oxford University Press, 1998, comments that Jolson's contemporaries "unanimously proclaimed him the greatest of all entertainers," but on film "with outstretched arms and blackened face falling on bended knee, lips quivering as he recollects old mammy, voice barking out melodies that just will not quit, has become music's counterpart to the mad woman in the attic."
Heinze, Andrew R. Adapting to Abundance: Jewish Immigrants, Mass Consumption, and the Search for American Identity. New York: Columbia University Press, 1990.
Lhamon, W. T. Raising Cain: Blackface Performance from Jim Crow to Hip Hop. Harvard University Press, 1998
Lott, Eric. Love and Theft: Blackface Minstrelsy and the American Working Class. New York: Oxford University Press, 1993.
Toll, Robert. Blacking Up: The Minstrel Show in Nineteenth-Century America. New York: Oxford University Press, 1974, is one of the best studies of America's only original contribution to theater.
Al Jolson: A Megastar Long Buried Under a Layer of Blackface article from NYT, October 22, 2000
---