K-19: The Widowmaker
Produced by National Geographic and Intermedia and distributed by Paramount 2002, budget of $100 million, gross of $60 million, color 35mm negative, 2.35:1 screen ratio, digital sound, 138 mins., DVD released 2002.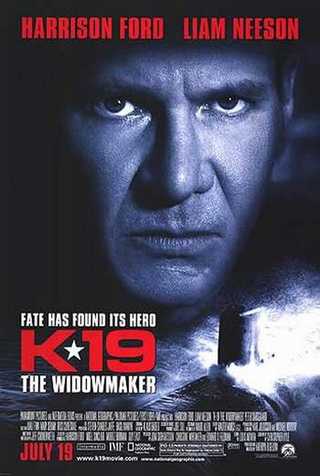 poster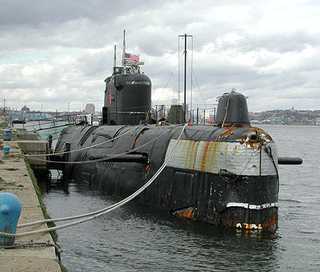 Juliett 484 diesel sub from 1968 used in the film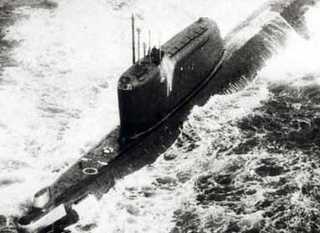 Hotel class sub 1960
Production:
Directed by Kathryn Bigelow
Screenplay by Christopher Kyle, from the story by Louis Nowra
Produced by Kathryn Bigelow, Edward S. Feldman, Sigurjon Sighvatsson, Chris Whitaker
Original music by Klaus Badelt
Cinematography by Jeff Cronenweth
Film Editing by Walter Murch
Sound Editing by Mark Berger
Production Design by Karl Juliusson, Michael Novotny
Art Direction by Arvinder Grewal, Michael Novotny
Set Decoration by Ian Greig, Carol Lavallee, Dan Wladyka
Cast:
Harrison Ford as Cpt. Alexi Vostrikov
Liam Neeson as Capt. Polenin
Peter Sarsgaard as Vadim Radtchenko
Joss Ackland as Marshal Zelentsov
George Anton as Konstantin Poliansky
Steven Nicolson as Yuri Demichev
Ingvar Eggert Siguršsson as Viktor Gorelov
Shaun Benson as Leonid Pashinski
Christian Camargo as Pavel Loktev
Dmitry Chepovetsky as Sergei Maximov
Steve Cumyn as Oleg Falichev
Svetlana Efremova as Elena
JJ Feild as Andrei Pritoola
James Ginty as Anatoly Starkov
Michael J.X. Gladis as Yevgeny Borzenkov
Kristen Holden-Reid as Anton Malahov
Ravil Issyanov as Igor Suslov
Mark Antony Krupa as Georgi
Peter Oldring as Vanya Belov
Sam Redford as Vasily Mishin
Christopher Routh as Oleg Argunov
Tygh Runyan as Maxim Portenko
Lex Shrapnel as Mikhail Kornilov
Sam Spruell as Dimitri Nevsky
Austin Strugnell as Yakov Rakitin
Donald Sumpter as Dr. Savran
Gerrit Vooren as Dmitri Voslensky
Notes:
This film is based on the true story of the Hotel-class K-19 submarine, the first Russian nuclear-powered ballistic missile sub, commissioned Nov. 12, 1960, with a crew of 139 and carrying three nuclear missiles, but suffering a radiation accident that killed 22 crewmen on June 4, 1961, in a North Atlantic training exercise. The decision to make the film was announced Oct. 15, 2000, shortly after the Aug. 12 Kursk accident, and the Apr. 21 release of the U-571 film. Location filming began Feb. 19, 2001 in Moscow, then moved to Toronto Mar. 12, then to Halifax in June for filming of the Juliett 484 diesel sub from 1968 made to look like the 1960 Hotel-class K-19. Filming was complete by July 18. The real survivors of the K-19, some of whom appear in the final graveyard scene with Harrison Ford, protested in Moscow how the film portrayed the crew as drunk from vodka and incompetent when the alarms began. In fact, drinking was prohibited on all Russian subs, and there was no conspiracy of crew led by Vladimir Yenin against Captain Zateyev.
Links:
---