The Madness of King George
Produced and distributed by Samuel Goldwyn Company, released Dec. 28, 1994, budget of $8 million, gross of $22 million, color 35mm negative, 1.85:1 screen ratio, SDDS digital sound, 107 mins., Laserdisc released 1995, DVD released 2001.
Production:
Directed by Nicholas Hytner
Written by Alan Bennett, from his stage play "The Madness of George III"
Produced by Stephen Evans, David Parfitt
Cinematography by Andrew Dunn
Film Editing by Tariq Anwar
Sound Editing by Christopher Ackland
Production Design by Ken Adam
Set Decoration by Carolyn Scott
Costume Design by Sue Honeybourne, Mark Thompson
Cast:
Nigel Hawthorne as George III
Helen Mirren as Queen Charlotte
Ian Holm as Dr. Willis
Rupert Graves as Greville
Amanda Donohoe as Lady Pembroke
Rupert Everett as Prince of Wales
Julian Rhind-Tutt as Duke of York
Julian Wadham as Pitt
Jim Carter as Fox
Geoffrey Palmer as Warren
Charlotte Curley as Amelia
Anthony Calf as Fitzroy
Matthew Lloyd Davies as Papandick
Adrian Scarborough as Fortnum
Paul Corrigan as Braun
John Wood as Thurlow
Janine Duvitski as Margaret Nicholson
Caroline Harker as Mrs. Fitzherbert
Cyril Shaps as Pepys
Notes:
King George was not mad. He suffered from the hereditary disease porphyria aggravated by the medication James' powders that contained arsenic. The gradual accumulation of arsenic caused the porphyria to produce intermittent bouts of what appeared to be madness. George was born 1738, the first Hanover to be born in England, and succeeded to the throne in 1760 when his grandfather died. His father, Frederick, Prince of Wales, had died in 1851. He was not responsible for the Stamp Act in 1764 or subsequent policies imposed by a parliament determined to bring order to the empire, nor was he responsible for the military failures during the American Revolution that resulted in the loss of the American colonies by 1783. The film opens in 1788 when his illness became serious, during the Tory ministry of William Pitt the younger (whose alcoholism is not shown in the film). Political conflicts over the the rights of Catholics, the appointment of a regent, the alliance of opposition Whig leader Charles Fox with the Prince of Wales, the inability of Queen Charlotte to help her husband are the problems George faces as well as his mysterious disease. The film accurately portrays the love of George for Charlotte and his family of 15 children. George III had bought the Queen's House for Charlotte in 1761, that later became Buckingham Palace, so he could be close to his family while holding court at St. James Palace. The film ends with George recovering, temporarily, from his illness in 1789 to regain his monarchy from the regent. However, his illness continued to worsen, caused blindness and dementia and death in 1820, after a reign of almost 60 years, second only to Queen Victoria's 64 years.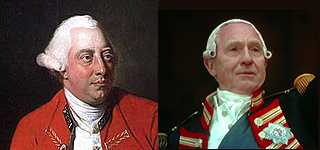 George II and Nigel Hawthorne
Links:
---