Patton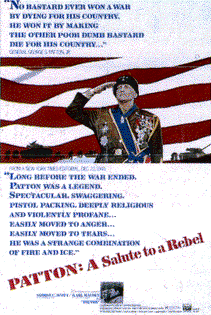 from Filmsite
Gen. Patton, from Life, 1/15/45
Production:
Released Jan. 1970 by 20th Century Fox in 70mm color, Dimension 150 aspect ration 2.21:1, stereo sound, 172 minutes; released on videotape and widescreen videodisc 1989; DVD 2-disc set released 1999.
Directed by Franklin J. Schaffner
Written by Ladislas Farago from his book Patton: Ordeal and Triumph, Omar N. Bradley from his book A Soldier's Story, Francis Coppola and Edmund H. North
Produced by Frank Caffey and Frank McCarthy
Original music by Jerry Goldsmith
Cinematography by Fred J. Koenekamp
Film Editing by Hugh S. Fowler
Art Direction Urie McCleary and Gil Parrondo
Set Decoration Antonio Mateos and Pierre-Louis Thévenet
Sound by James Corcoran and Ted Soderberg and Douglas O. Williams
Second unit directed by Michael J. Moore
Military advisor Omar N. Bradley
miltary advisor in Spain Luis Martín Pozuelo
Technical advisors Paul D. Harkins and Glover S. Johns Jr.
Cast:
George C. Scott as Gen. George S. Patton Jr.
Karl Malden as General Omar N. Bradley
Michael Bates as Field Marshal Sir Bernard Law Montgomery
Stephen Young as Captain Chester B. Hansen
Ed Binns as Major General Walter Bedell Smith
Lawrence Dobkin as Colonel Gaston Bell
John Doucette as Major General Lucian K. Truscott
James Edwards as Sergeant William G. Meeks
Frank Latimore as Lieutenant Colonel Henry Davenport
Richard Münch as Colonel General Alfred Jodl
Morgan Paull as Captain Richard N. Jenson
Siegfried Rauch as Captain Oskar Steiger
Paul Stevens as Lieutenant Colonel Charles R. Codman
Michael Strong as Brigadier General Hobart Carver Karl
Michael Vogler as Field Marshal Erwin Rommel
Peter Barkworth as John Welkin
John Barrie as Air Vice-Marshal Sir Arthur Coningham
David Bauer as Lieutenant General Harry Buford
Tim Considine as Slapped Soldier
Gerald Flood as Air Chief Marshal Sir Arthur Tedder
Jack Gwyllim as Harold Alexander
Bill Hickman as General Patton's Driver
Carey Loftin as General Bradley's Driver
Douglas Wilmer as Major General Francis de Guingand
Patrick J. Zurica as First Lieutenant Alexander Stiller
Notes:
The following are notes from the videotape released in 1989 by CBS/Fox: "General Omar N. Bradley (played by Karl Malden in the film) wrote one the major sources for the screenplay, "A Soldier's Story," and served as senior military technical advisor for the film. Luis Martin Pozuelo served as Spanish military technical advisor. Paul D. Harkins and Glover S. Johns, Jr., also served as technical advisors. Tim Considine, who appears as the soldier who gets slapped, played Fred MacMurray's oldest son Mike on the TV sitcom "My Three Sons" for five years. Producer Frank McCarthy spent 20 years trying to interest someone in the Patton biography before Fox mogul Darryl F. Zanuck purchased it. McCarthy once described the first screenplay, written by Francis Ford Coppola, as "poetic, marvelous, and rather shapeless." Schaffner won the 1970 Best Director Award from the Director's Guild of America. Scott won the 1970 Best Actor Award from the National Board of Review, the New York Film Critics Circle, and the national Society of Film Critics. National Board of Review also named "Patton" the Best Film of 1970. There are two different laserdisc editions of "Patton." One is not letterboxed and was first released in 1981-1984. The other is a Special Wide Screen Edition, which is letterboxed, and was first released in 1989. The Special Widescreen Edition also includes an epilogue of Movietone News reports about Patton. The film has 94 speaking parts. Estimated budget $13 million. Filmed over an 18-week period in Spain, England, Morocco, Greece, and Los Angeles. Filming completed May 31, 1969. Titles by Pacific Title. Color by DeLuxe. Filmed in 70mm Dimension 150, which produced a projected aspect ratio of 2.21:1. Released in USA January 1970. Released on video May 25, 1989. Rated BBFC A by the British Board of Film Censors. The film was also known as "Patton: Lust for Glory," and "Patton: Salute to a Rebel." In 1986, George C. Scott played Patton once again in the TV-movie, "The Last Days of Patton" which covers the period of Patton's life from the end of WWII to his death. The film also featured Eva Marie Saint, Richard Dysart, Murray Hamilton, Ed Lauter, and Kathryn Leigh Scott. Written by Williuam Luce from Ladislas Farago's book, "The Last Days of Patton." Directed by Delbert Mann. Running time for the video and originally aired version is 146 minutes, while some re-run versions may run 104 minutes."
The following is from Wrap Shot in American Cinematographer Feb. 1999: "Directed by Franklin Schafner and photographed by Fred J. Koenekamp, ASC, the picture is truly epic in scope, thanks to bravura location work (done on 71 sites in six countries), the director of photography's dramatic images (which were achieved with the Dimension 150 widescreen system), and George C. Scott's stunning performance as a warrior destined for greatness despite his personal failings. A photographic and projection system created by Dr. Richard Vetter and Carl W. Williams at UCLA, Dimension 150 offered optics that covered a 150-degree field of view, which closely approximates the normal peripheral vision of the human eye. The system offered a complete range of lenses, which were adaptable to Todd AO/Mitchell 65mm cameras. The resulting footage was projected onto a deeply curved screen, creating a virtually distortion-free picture. For projection in normal theaters, the D-150 footage could be adapted for any standard theatrical format, including normal 35mm, Cinema Scope and conventional 70mm. Roughly 80 percent of Patton was filmed on natural locations, ranging from the general's actual wartime headquarters in Knutsford, England, to the Pamplona region of Basque Spain and Roman ruins in Morocco. The few stage-bound sequences were primarily filmed at the Sevilla Studios in Madrid and at 20th Century Fox in Hollywood."
Links:
---