The Perilous Fight: World War II in Color
Produced and broadcast Feb. 12 and 19, 2003 by PBS, 4 episodes of 60 mins. each, DVD released 2003.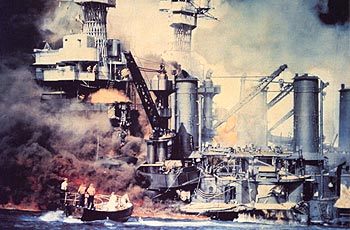 USS Virginia
Production:
Series producer: Martin Smith
Associate producer: David Boardman
Archive film producer: Adrian Wood
Episode producers/writers: Martin Smith ("Infamy," "Triumph"), Scott Pearson ("Battlefronts"), Greg Palmer ("Wrath")
Executive producers: David Rabinovitch, KCTS/Seattle; Polly Bide, Carlton Television; and Alastair Waddington, TWI
Narrator: Martin Sheen
Notes:
"The Second World War was the first war to be recorded extensively on color film, mostly by Americans. For years, much of that color footage remained unknown and unseen ‹ until now.  The Perilous Fight: America's World War II in Color brings America's wartime experience, on the battlefield and at home, vividly and intimately to life by combining original color film footage with compelling passages from diaries and letters written by people who were part of an unforgettable period of history.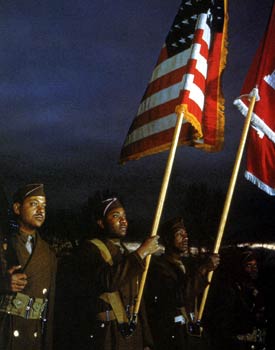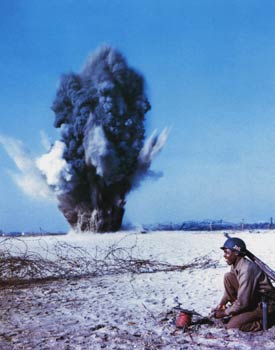 Award-winning actor Martin Sheen narrates the four-hour series, which PBS will present in two two-hour installments, Wednesday, February 12, 9-11:00 p.m. ET and Wednesday, February 19, 9-11:00 p.m. ET. (Check local listings.) Relying exclusively on color film footage, with no still photographs, black and white film or interviews, The Perilous Fight is a unique and telling look at how Americans faced history's greatest armed conflict. The series brings to the fore timeless questions about national and personal duty, courage and loss.

For The Perilous Fight , Emmy Award-winning series producer Martin Smith (Vietnam: A Television History) and his team conducted an extensive search for materials capturing the key events, daily life and distinctive spirit of the times. The scenes featured in the series were culled from hundreds of hours of original color film footage gathered from sources that included government archives, museums, historical societies, and veterans and their families. Many of the scenes have never been publicly screened. Along with rare color footage, producers obtained diaries, journals and personal correspondence that provide candid, moving insights into life in wartime America and the realities of battle for those who experienced it. Also featured are excerpts from wartime radio broadcasts and reports by war correspondents including Scripps Howard's Ernie Pyle, Ollie Stewart of the Afro-American and Martha Gellhorn of Collier's Weekly.

The Perilous Fight depicts not only the action of battles in Europe, Africa and the Pacific, but also developments at home that altered the fabric of American society ‹ including the mobilization of women and African Americans in industry and the military, the internment of Japanese Americans, and the massive interstate migration of Americans seeking defense jobs. The Perilous Fight begins with "Infamy," spanning the years 1919 to 1942. Through remarkable color footage ‹ including some of the earliest color motion picture images ever filmed ‹ the episode takes viewers from the end of World War I through the early years of the Second World War to the attack on Pearl Harbor and the decisive Battle of Midway.

Part 2, "Battlefronts," focuses on the years 1942 to 1944, from the huge buildup of America's military and industrial capabilities through the Allied invasions of North Africa and Sicily to preparations for D-Day and the largest amphibious invasion in history.

Part 3, "Wrath," spans the critical period between June 4, 1944, and May 8, 1945 ‹ from the Allies' massive D-Day assault on Normandy through their hard-won victory in the Battle of the Bulge ‹ culminating in V-E Day celebrations of Germany's surrender. 

Part 4, "Triumph," captures America's efforts to win the Pacific war, from the desperate fighting that engulfed the islands of the Central Pacific through the air raids on Japan and the A-bomb explosions that decimated Hiroshima and Nagasaki. The episode closes with celebrations in the streets of New York City marking the end of a struggle that had killed or wounded more than 1.4 million Americans and changed a nation forever. " (Press Release: December 20, 2002)


Links:
---