Running Brave
Produced by Englander Productions, released in 1983 by Buena Vista Pictures, color, 35mm Academy 1.37:1 screen ratio, Dolby stereo sound, 106 mins.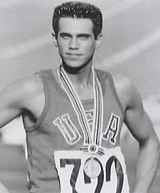 Robbie Benson as Mills
Production:
Directed by D.S. Everett  
Written by Henry Bean, Shirl Hendryx  
Produced by Ira Englander, Maurice Wolfe
Original music by Mike Post  
Cinematography by Francois Protat  
Film Editing by Peter Zinner  
Production Design by Carol Spier
Cast:
Robby Benson as Billy Mills
Pat Hingle as Coach Bill Easton
Claudia Cron as Pat Mills
Jeff McCracken as Dennis Riley
August Schellenberg as Billy's father
Denis Lacroix as Frank Mills
Graham Greene as Eddie Mill
Notes:
This film is based on the true story of Billy Mills, the Oglala Sioux orphan who was born in 1938 on the Pine Ridge reservation, orphaned at the age of 12, went to the Haskell Institute Indian school in Lawrence, Kansas, began running in order to train for boxing. He attended the University of Kansas on an athletic scholarship, joined the track team, and in 1961 won the Big 8 conference championship in the two-mile race. After graduation, he joined the Marine Corps and qualified for the U. S. Olympic Track and Field Team to run the 10,000 meter and the marathon at the 1964 Olympics in Tokyo. He won a gold medal in the 10,000 meter (the only American to ever win a gold in the 10,000 in Olympic history), setting an Olympic record of 28 minutes 24.4 seconds. The film includes "an amazingly accurate recreation of Mills' stunning last lap in the 1964 Olympic 10,000 meter race (but with one laughably huge flaw -- a football field is clearly visible on the infield." (Lee Nichols).
Links:
---
revised 2/10/01 by Schoenherr | Filmnotes