Schindler's List
Produced by Amblin Entertainment and distributed 1993 by Universal Pictures, color and black-and-white 35mm negative, 1.85:1 screen ratio, DTS digital sound, 197 mins., Laserdisc released 1994.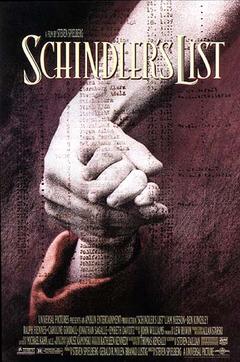 Production:
Directed by Steven Spielberg
Screenplay by Steven Zaillian, from the 1982 book Schindler's Ark by Thomas Keneally
Produced by Steven Spielberg as producer
Original Music by John Williams
Cinematography by Janusz Kaminski
Film Editing by Jeff Clark , Doug Jackson, Michael Kahn
Sound Editing by Leonard T. Geschke
Production Design by Allan Starski
Art Direction by Ewa Skoczkowska, Maciej Walczak
Set Decoration by Ewa Braun
Costume Design by Anna B. Sheppard
Cast:
Liam Neeson as Oskar Schindler
Ben Kingsley as Itzhak Stern
Ralph Fiennes as Amon Goeth
Caroline Goodall as Emilie Schindler
Jonathan Sagall as Poldek Pfefferberg
Embeth Davidtz as Helen Hirsch
Malgoscha Gebel as Victoria Klonowska
Shmulik Levy as Wilek Chilowicz
Mark Ivanir as Marcel Goldberg
Béatrice Macola as Ingrid
Andrzej Seweryn as Julian Scherner
Friedrich von Thun as Rolf Czurda
Krzysztof Luft as Herman Toffel
Harry Nehring as Leo John
Norbert Weisser as Albert Hujar
Adi Nitzan as Mila Pfefferberg
Michael Schneideras Juda Dresner
Miri Fabian as Chaja Dresner
Anna Mucha as Danka Dresner
Albert Misak as Mordecai Wulkan
Michael Gordon as Mr. Nussbaum
Aldona Grochal as Mrs. Nussbaum
Jacek Wyjcicki as Henry Rosner
Beata Paluch as Manci Rosner
Piotr Polk as Leo Rosner
Ezra Dagan as Rabbi Menasha Levartov
Beata Nowak as Rebecca Tannenbaum
Rami Heuberger as Josef Bau
Resources:
Credits from the IMDB for the title Schindler's List
Loshitzky, Yosefa , ed. Spielberg's Holocaust: Critical Perspectives on Schindler's List. Bloomington: Indiana University Press, 1997. 250 p.
Mintz, Alan L. Popular Culture and the Shaping of Holocaust Memory in America. Seattle: University of Washington Press, 2001. 208 p.
---