Yesterday's Witness
Color, 52 minutes, VHS documentary, mono sound, released 1977 by Christian Blackwood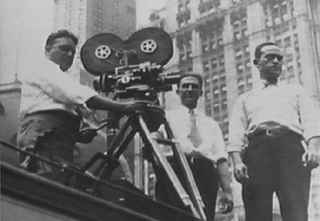 DIRECTOR and PRODUCER: Christian Blackwood
WRITER: Raymond Fielding
NARRATOR: Lowell Thomas

This film is a documentary subtitled "A Tribute to the American Newsreel" that describes the era of the newsreel 1911-1967. Interviews include studio narrators Ed Herlihy and Harry Von Zell, cameramen, musician Jack Shaindlin. Clips are shown from famous newsreels, such as the Hindenburg crash May 6, 1937, with the emotional description made on disc at the time by radio announcer Herb Morrison; the Japanese attack on the Panay Dec. 12, 1937; the Cuban Revoution of 1935, Lindbergh's airplane takeoff May 20, 1927, and Coolidge's welcome home on Lindbergh's return to the U.S.; the Lindbergh kidnapping case of 1932 and the Hauptmann trial of 1935; George Bernard Shaw talking 1927; Fiorella La Guardia smashing slot machines; the airplane crash into the Empire State Building 1945; the death of Lawrence of Arabia; the Tacoma Bridge collapse.

The Big 5 newsreel companies were Fox, Universal, Paramount, Hearst- MGM, Pathe-Warner Bros.
LINKS:
---