Time, Inc.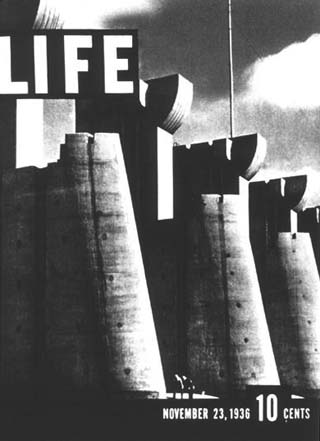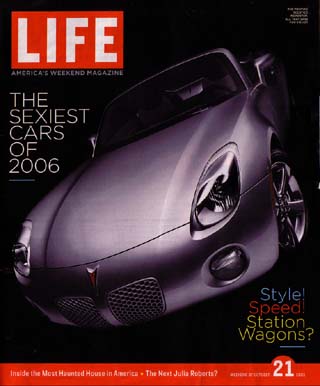 March 3, 1923 - 1st issue of Time magazine - 32 pp.
by H. Luce & B. Hadden in 39th St. brewery

$86,000 startup cost from Yale grads - Harkness family

to interpret, personalize, categorize the news

factual, linear narrative = documentary

omniscient, opinionated, irreverent, provocative

vivid style: "tycoon", "pundit", "socialite"

"backward ran sentences until reeled the mind"

reader was "the gentleman from Indiana"

Charles Lindbergh 1st Man of the Year 1927, Wallis Simpson 1st Woman of the Year 1936, Madam and General Chiang Kai-shek Man & Woman of the Year 1937
Feb. 1930 - 1st issue of Fortune magazine - 2lbs., 184 pp.
to culturally broaden the American businessman

new emphasis on photojournalism - E. Salomon

Nov. 23, 1936 - 1st issue of Life magazine - "whoop-sheet"
high-quality picture magazine - fast drying ink

emphasis on advertisers - to charm & relax masses

"pass-along" readership of 8:1 - "look-through"

new emphasis on own staff = Alfred Eisenstadt, Peter Stackpole, Margaret Bourke-White, T. McAvoy

Examples of stories published in Time-Life
"This is a brain operation"
FDR signs Brazilian Trade Bill Feb. 2 - McAvoy photos published Feb. 25, 1935
FDR as "Colossus" Jan. 16, 1939: "Here, in literal fact, the camera lied. ġut it did not deceive."
Supreme Court Justice George Sutherland Oct. 25, 1937
Surgeon-General Thomas Parran Aug. 8, 1938
migrants on the road in Crittenden Co., Ark., by Mydans 1936
death of Republican soldier 1937
Picasso's Guernica 1937
North Carolina party July 5, 1937
women of Vasser Feb. 1, 1937
"Clubwomen Get Lessons in Cigaret Smoking"
"How a Wife Should Not Undress" by Peter Stackpole, who lost negatives in Oakland fire Oct. 20, 1992.
"The Birth of a Baby" April 11, 1938
"Speaking of Dictators" April 18, 1938
Wendell Willkie campaign 1940
Evolution of the Company
1954 - 1st issue of Sports Illustrated

1964 - Hedely Donovan succeeds Luce as editor-in-chief
1968 - Don Hewitt models 60 Minutes on Life magazine
1972 - Life dies as a $.50 weekly, but 2 specials per year

1974 - 1st issue of People

1976 - Time Inc. becomes the 1st billion dolloar publishing company
1978 - Life reborn as a $1.50 monthly

1980 - HBO (started in 1972) and Cinemax

1989 - merger with Warner (DC comix, Mad magazine)

Resources
view examples of photojournalism at the following links:
Bibliography
Swanberg, W. A. Luce and His Empire. NY: Scribners, 1972.
Clurman, Richard M. To the End of Time: The Seduction and Conquest of a Media Empire. NY: Siman and Schuster, 1992, is an account of the 1989 merger of Time and Warners.
---