Prison Reform
Walnut Street Jail 1790
What has been called "the first American penitentiary, if not the first one in the world," was established in Philadelphia, in 1790, in the Walnut Street Jail, a building formerly operated as a city jail. "The cell blocks constructed in the Walnut Street Jail, pursuant to the law of 1790, introduced in permanent fashion the structural pattern of outside cells, with a central corridor, the chief architectural feature of the Pennsylvania system of prison construction. Here, for the first time in penological history, the use of imprisonment through solitary confinement as the usual method of combatting crime, was permanently established. The basic principles of the new system, so it appears from contemporary accounts, were the effort to reform those in the prison, and to segregate them according to age, sex, and the type of the offenses charged against them." (quotes from from the Handbook of Correctional Institution Design and Construction, United States Bureau of Prisons, 1949). The word "penitentiary" came from the Pennsylvania Quakers and their belief in penitence and self-examination as a means to salvation. Diagram from Prison History.
Auburn 1821
This was the first of two prisons authorized by the New York law of 1816. The second prison was Sing-Sing authorized in 1824 to replace Newgate in Greenwich Village built in 1796. The emphasis was on individual cell-block architecture to create an environment to rehabilitate and reform, to separate the criminal from all contact with corruption and then teach him moral habits of order and regularity by means of sever discipline. Inmates worked as contract convict labor 10 hours per day, 6 days per week. Alexis de Tocqueville visited Sing-Sing in 1831 and wrote about its system of discipline. The Auburn model influenced the emergence of reform schools and workhouses in the 1820s, such as the New York House of Refuge in 1825 that separated juveniles from the adult prisoners, and the workhouse on Blackwell's Island for vagrants and drunks and misdemeanants. New York City built the Tombs on Centre Street in 1838 to add prison capacity to the old Bridewell jail and the 1814 Bellevue Penitentiary and the 1828 Blackwell's Island Penitentiary (Blackwell's was closed by reform mayor LaGuardia and all inmates moved to the new Rikers Island in 1934).
Eastern State Penitentiary 1829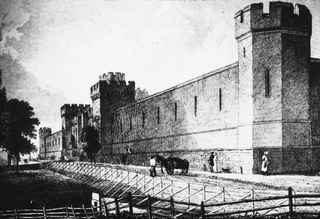 Eastern State Prison

This was a huge fortress with thick walls at Cherry Hill near Philadelphia emphasizing complete solitary confinement (the "Pennsylvania system") rather than contract labor (the "Auburn system"). New inmates wore hoods when marched to their cells to avoid seeing other prisoners. Regimentation included use of the lockstep and marching in close order single file shuffling with head turned right, practices that continued into the 1930s. No visitors or mail or newspapers were allowed. The design of this prison became the most influential in U. S. history, on such fortresses as the West Virginia Penitentiary.
Elmira Reformatory 1876
The second wave of prison reform began with the 1870 National Congress on Penitentiary and Reformatory Discipline that led to the founding of the American Correctional Association, known then as the National Prison Association, and to the building of Elmira Reformatory. Zebulon Brockway began an effort to classify and segregate type of prisoners, provide individualized treatment including vocational training, rewards for good behavior, parole, indeterminate sentences. The focus shifted from penitence and punishment to individual treatment. "Beginning in 1878, several educated inmates taught elementary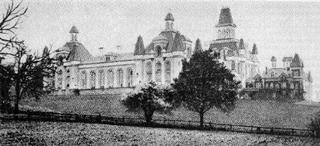 Elmira Reformatory

classes six nights a week, and a professor from the Elmira Women's College conducted courses in geography and the natural sciences for advanced students. The next year, six public school teachers and three attorneys were engaged to teach elementary classes and advanced classes were expanded to include geometry, bookkeeping and physiology. A professor from the Michigan State Normal School was recruited as "moral director" to begin courses in ethics and psychology. Lectures in history and literature were added in the early '80's. In 1882, a summer school was started." (quote and picture from History of Elmira)
Alcatraz 1933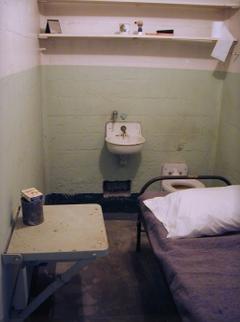 Alcatraz cell

The Federal Bureau of Prisons was established in 1930 to oversee the 11 federal prisons then in existence. In 1933 Attorney General Homer Cummings created the Federal Bureau of Investigation and acquired Alcatraz from the U.S. Army for a federal prison. "The Great Depression was the root of a severe crime surge during the late 20's and 30's, and brought to light a new era of organized crime. The gangster era was in full swing and the nation was witness to violent crime waves brought on by Prohibition and those driven by desperate need. The nation sat in fear as influential mobsters and sharply dressed public enemies weighed their heavy influence on metropolitan cities and their authorities. Law enforcement agencies were often ill-equipped, and would often cower before better-armed gangs in shoot-outs and public slayings. A public cry swept the nation to take back America's heartland and the birth of a unique detention facility was cast, it was nicknamed Uncle Sam's Devil's Island. Alcatraz was the ideal solution; it could serve the dual purpose of not only condemning public enemies, but would be a visible icon, as a warning to this new brand of criminal. Sanford Bates, the head of the Federal Prisons, and Attorney General Homer Cummings led the project and kept a hand in the design concepts that were finely detailed. One of the nations foremost security experts, Robert Burge, was commissioned to help design a prison that was escape-proof as well as forbidding. The Bureau of Prisons chose James A. Johnston as Alcatraz's new Warden. Johnston was an ideal choice, with his strict ideals and humanistic approach to reform. Johnston came to the position with a broad-based background of business, and over twelve years experience in the California Department of Corrections. James Johnston was appointed as the Warden of San Quentin Prison in 1913, and served a brief appointment at Folsom Prison. Johnston had become notable for the programs he implemented for prisoner reform. He didn't believe in chain gangs but believed in having inmates report to a job where they were respected and rewarded for their efforts. Nicknamed the "Golden Rule Warden" at San Quentin, Johnston was praised in newspapers for the California highways that were graded by prisoners in his road camps. Although inmates were not compensated monetarily, they were rewarded with sentence reductions. Johnston also established several educational programs at San Quentin that proved successful with a good number of inmates. Despite his humane approach to reform, he also carried a reputation as a strict disciplinarian. His rules of conduct were among the most rigid in the correctional system and harsh punishments were delivered to inmates defiant of prison regulations. During his tenure at "Q" Warden Johnston had overseen the executions of several inmates by hangings, and was not unfamiliar with managing the most vicious rogues of society." (quote and picture from The Rigid Silence)
Links:
---
Revised 5/29/04 by Schoenherr