The Versailles Treaty
June 28, 1919
The Complete Treaty with all 440 Articles in a single 498k file
The Treaty divided into sections: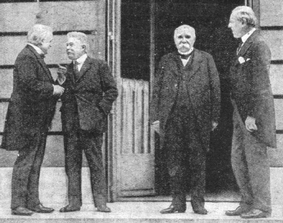 In 1919, the Big 4 met in Paris to negotiate the Treaty:
Lloyd George of Britain, Orlando of Italy,
Clemenceau of France, and Woodrow Wilson of the U.S.
Sources and Suggested Readings:

The Treaties of Peace 1919-1923. New York: Carnegie Endowment for International Peace, 1924, is the source of the complete text of the 1919 Treaty.
Mayer, Arno J. Politics and Diplomacy of Peacemaking: Containment and Counterrevolution at Versailles, 1918-1919. New York: Harcourt, 1967, is a detailed and authoritative account of the Versailles Treaty negotiations, and is the sequel to Mayer's Political Origins of the New Diplomacy, 1917-1918.
Macmillan, Margaret. Paris 1919: Six Months that Changed the World. New York : Random House, 2002. This book was originally published in London as Peacemakers: the Paris Conference of 1919. The author, professor of history at Ryerson University, Toronto, became the first woman to win Britain's Samuel Johnson prize for best non-fiction award in 2002. Her book was called "splendidly revisionist and daringly politically incorrect" by arguing that the 1919 peace conference should not be blamed for causing World War II. "When war came in 1939, it was a result of 20 years of decisions taken or not taken, not of arrangements made in 1919."
United States Department of State. The Treaty of Versailles and After. New York, Greenwood Press. 1968. Reprint of the 1944 edition with annotations by Denys P. Myers, 1018 pages, including maps, gov doc S 5.30:92.
Czernin, Ferdinand. Versailles, 1919: The Forces, Events and Personalities That Shaped the Treaty. New York: G. P. Putnam's Sons, 1964.
Ferrell, Robert H. Woodrow Wilson and World War I, 1917-1921. Bloomington: Indiana University Press, 1985, is a critical treatment of Wilson's role in the treaty process.
Gelfand, Lawrence E. The Inquiry: American Preparations for Peace, 1917-1919. New Haven: Yale University Press, 1963.
Joyce, James Avery. Broken Star: the Story of the League of Nations (1919-1939). Swansea: C. Davies, 1978.
Maps, Charts, Photos and Cartoons:
Map 1 of Europe and Asia Minor in 1914 (small preview image or both 1914-24)

Armillary sphere, a symbol of the League of Nations, from pictures

Chart 1 of Germany's military structure allowed by the treaty
Photo of the Big 4 (small preview image)

from Literary Digest , 7/5/1919

Photo of bust of Wilson by Jo Davidson (small preview image)

from Literary Digest , 8/9/1919

Photo of Henry Cabot Lodge (small preview image)
Cartoon captioned A Nervous Wreck - (small preview image)

from Literary Digest , 7/5/1919

Cartoon captioned Can It Survive? - (small preview image)

from Literary Digest , 7/19/1919

Cartoon captioned Touch Not a Single Bough - (small preview image)

from Literary Digest , 8/9/1919

Cartoon captioned Can He Get Them Together? - (small preview image)

from Literary Digest , 8/9/1919

"Muzzled" from the Literary Digest 9/13/1919

Cartoon captioned Rear View - (small preview image)

from Literary Digest , 8/30/1919

Cartoon captioned You Really Can't Blame Him for Wanting a Life Preserver - (small preview image)

from Literary Digest , 8/30/1919

Cartoon captioned Turn on the Hose - (small preview image)

from Literary Digest , 8/30/1919

Cartoon captioned Muzzled - (small preview image)

from Literary Digest , 9/13/1919

Cartoon captioned The Rainbow - (small preview image)

from Literary Digest , 9/13/1919

Cartoon captioned Blowing Bubbles - (small preview image)

from Literary Digest , 9/20/1919
Links to Local Pages:
Links to Other Resources and Pages:
---
---
Citation: Schoenherr, Steven E. The Versailles Treaty of June 28, 1919. ../../text/versaillestreaty/vercontents.html [February 8, 2004]