Hill 60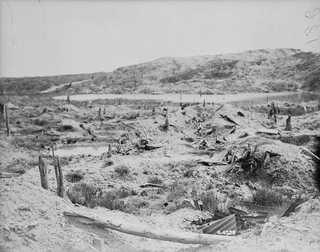 "The Dump" from British trench line near Hill 60
Apr. 17 - British 5th Division took Hill 60 near St. Eloi after exploding mine. Hill 60 was located six miles south of Ypres, was 60 meters high, the highest point on the Messines ridge, used by Germans for artillery. Two nearby hills were the Caterpillar behind German lines and The Dump behind British lines. Major Jack Griffith, member of Parliament and millionaire engineer who had built small cable tunnels under streets of London, using men called "clay kickers" who used steel spades on feet to dig out clay while laying on a wood cross. Kitchener in Jan. 1915 approved the formation of the Mining Corps, and by 1918 there would be 60,000 in the Corps digging tunnels. The soil under Ypres was similar clay, and the clay kickers could dig a tunnel at rate of 10 ft. per day. Germans also digging tunnels, and both sides developed listening devices to locate tunnels. Griffith began his tunneling in Ypres in Feb., sinking a shaft cown 16 ft., then tunneling toward Hill 60. A bellows system provided oxygen. British encountered a German counter-tunneler, German fired a pistol, the first incident in the "War Underground." On Apr. 17 at 7 pm, British mine under Messines exploded, artillery barrage began, then bayonet charge and took Hill 60, losing only 7 including one observer who stood up during the explosion and was hit by flying debris. The British fight against counterattacks resulted in 4 Victoria Crosses.

May 5 - Germans retook Hill 60 after massive bombardment and gas attack. "2000 British dead lay in an area the size of a large backyard garden."

May 6 - Capt. Gerald Burgoyne led his Royal Irish Rifles in night attack on Hill 60, lost most of his men, was hit in eye by bullet, sent back to England suffering from "neurasthenia" or shell shock, a condition that had grown dramatically from 2000 cases in 1914 to 20,000 in 1915, caused by long duration of battle over weeks, constant artillery explosions, conditions in trenches, witnessing fellow soldiers blown apart or killed by machine guns.


Links:
Sources:
Barrie, Alexander. War Underground: The Tunnellers of the Great War. London: Tom Donovan Publishing Ltd, 1988.
Groom, Winston. A Storm in Flanders: the Ypres Salient, 1914-1918: Tragedy and Triumph on the Western Front. New York: Atlantic Monthly Press, 2002.
Macdonald, Lyn. 1915, the Death of Innocence. Baltimore: Johns Hopkins University Press, 2000.
---