Containment 1947-49
George Marshall in 1939,
photo from the FDRL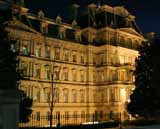 old State-War-Navy bldg
threat to Turkey,
from US News 7/16/1948
Italian peasants march for agricultural reform 9/46
James Forrestal appointed by Truman 1947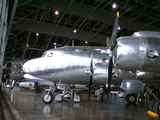 C-54 from the Presidential Aircraft Collection, USAF Museum
new air base in Libya,
from US News 1/30/1948
Jan. 21 - George Marshall replaced Byrnes as Secretary of State
Underscretaries Dean Acheson, Robert Lovett, Will Clayton
new Policy Planning Staff under George Kennan
State Department moved from old State-War-Navy building to new air-conditioned Foggy Bottom HQ
Mar. 12 - Truman Doctrine
Brit. Feb. 12 announced Greece pullout
see the text of Truman's speech to Congress
"I believe that it must be the policy of the United States to support free peoples who are resisting attempted subjugation by armed minorities or by outside pressures."
"national security" not defense, unilateral not UN, domino theory not regionalism
signed May 22 with Vandenberg amendment that affirmed U.S. support for United Nations
June 5 - Marshall Plan
"directed not against any country or doctrine but against hunger, poverty, desperation and chaos" - but called by Truman "two halves of the same walnut"
Clayton's May 19 memo - US should create own economic recovery program for Europe - not UN OR UNRRA
DeGaulle created his new RPF party Apr. 7 - Truman fears "the harvest of little Caesars and their acts of aggression"
Marshall Plan 50th anniversary from USAID, including the text of the June 5 speech at Harvard
For European Recovery: The Fiftieth Anniversary of the Marshall Plan from Library of Congress
Paul Hoffman and Averell Harriman meet at the July Paris conference that established the multilateral ERP - photo from US News 1948/09/24
"Mediterranean Patrol" cartoon
"How Westinghouse can help you" ad
July 26 - National Security Act
created National Military Establishment (renamed Department of Defense in 1949), National Security Council, CIA
civilian Secretary of Defense - 1st was James Forrestal
but no UMT sought by Marshall - chart
priority given to a new independent Air Force - SAC created Mar. 21, 1946
Truman signed the NSA on board the Sacred Cow C-54, symbolizing the new independent status of the Air Force.
"Air Power, New Style"
Sept. 2 - Rio Pact signed at Petropolis near Rio de Janeiro
delegates from the U.S. and 19 Latin American countries had met since Aug. 15
Truman made trip to Rio for the closing of the meetings "amid shouts of 'Viva Truman!'"
the pact was "an epochal achievement in regional security" (including Argentina) that confirmed the Act of Chapultepec (without Argentina in 1945) that had multilateralized the Monroe Doctrine - an attack on one was an attack on all, and with a 2/3 vote, all would join the defense (but each nation must consent to the use of its armed forces)
the pact created a security zone around the hemisphere, continuing the "safety belt" idea of the 1940 Panama Pact.
the pact reaffirmed the principle of nonintervention "for any reason whatever" against each other
"It was by all odds the most significant inter-American agreement to date. It was also the first regional defense pact, as envisioned by Article 51 of the United Nation Charter. As such, it served as both a model and a precedent for the multipower North Atlantic Treaty of 1949." (Bailey p. 807)
The Bogota Charter of 1948 at the 9th International Conference of American States created the Organization of American States, fulfilling the 2nd goal of Chapultepec.

Feb. 9 - Frankfurt Charter created a bizone for West Germany.
Feb. 25 - Communist coup took over Czechoslovakia.
Berlin Airlift ad
Mar. 2 - Truman's Loyalty Program created to catch Cold War spies.
Mar. 17 - Brussells Pact organized to protect Europe from communism.
Bevin united Benelux and Britain and France
Mar. 20 - USSR walked out of Allied Control Commission
June - Social Democratic Party won Italy election - CIA covert operation successful
June 24 - Berlin Blockade began, for 11 months until May 12, 1949
Lucius Clay ordered airlift June 25
Aug. 3 - Whittaker Chambers accused Alger Hiss before HUAC

Nov. 2 - Truman/Barkley defeated Dewey/Warren 49.5% to 45.1%

24,179,345 to 21,991,291 popular votes
303 to 189 electoral votes (266 majority required)
Strom Thurmond won 1,169,021 popular, 39 electoral votes
Henry Wallace won 1,157,172 popular, 0 electoral votes

Jan. 20 - Truman announced Point Four program
Jan. 21 - Dean Acheson replaced Marshall as Secretary of State
Apr. 4 - NATO treaty signed - text and 50th anniversary 4/25/99
July 14 - USSR exploded its first A-bomb; announced Sep. 23
Oct. 1 - Mao Zedong established the People's Republic of China; Jiang Jieshi established the Nationalist China goverment on the island of Formosa.


Truman Library
Air Force 50th Anniversary and press release
NARA Historic Election Results
Truman Point Four Speech delivered at the Jan. 20, 1949, Inauguration, from Avalon

---