Cradle Will Rock
Released Dec. 8, 1999, by Buena Vista Pictures, color, digital sound, 137 mins.
Production:
Directed and written by Tim Robbins Ê
Produced by Frank Beacham
Original music by Marc Blitzstein and David Robbins Ê
Cinematography by Jean-Yves Escoffier Ê
Film Editing by Geraldine Peroni Ê
Casting by Douglas Aibel Ê
Production Design by Richard Hoover Ê
Art Direction by Richard Hoover, Peter Rogness Ê
Sound by Tod A. Maitland
Cast:
Hank Azaria as Marc Blitzstein
RubŽn Blades as Diego Rivera
John Cusack as Nelson Rockefeller
Cary Elwes as John Houseman
Cherry Jones as Hallie Flanagan
Angus MacFadyen as Orson Welles
Susan Sarandon as Margherita Sarfatti
Emily Watson as Olive Stanton
John Carpenter as William Randolph Hearst
Gretchen Mol as Marion Davies
Harris Yulin as Congressman Dies
Gil Robbins as Congressman Starnes
Corina Katt as Frida Kahlo
Barbara Sukowa as Sophie Silvano
Jamey Sheridan as John Adair
Vanessa Redgrave as Countess LaGrange
Philip Baker Hall as Gray Mathers
Bill Murray as Tommy Crickshaw
Joan Cusack as Hazel Huffman
Bob Balaban as Harry Hopkins
Jack Black as Sid
Kyle Gass as Larry
Paul Giamatti as Carlo
Chris McKinney as Canada Lee/ Rev. Salvation
Notes:
It was an historic moment in American theater when the curtains opened on Marc Blitzstein at the Venice Theater July 16, 1937. Sadly, director Tim Robbins tried to imitate Robert Altman in structuring the film Cradle Will Rock, resulting in a kaleidoscope of scenes and characters rather than a cohesive classical narrative. Robbins has praised "the mastery" of Altman in the 1975 non-narrative film Nashville, "being able to interweave and keep all these things balanced and juggled and progressing." And Altman has praised Robbins as "the next Orson Welles." But the non-narrative style distorts the truth of the real story, as Welles distorted the historical truth about Hearst in his 1940 film Citizen Kane. It was a great film, but poor history. Rather than tell this powerful story in a classical Hollywood narrative unfolding around the central characters of Flanagan, Welles, Houseman, and Blitzstein, producer Robbins instead created a complex quilt of several narratives and a multitude of characters. He has Diego Rivera painting a mural for Nelson Rockefeller, even though that story had no relationship to the Federal Theatre Project and took place 5 years earlier. He has Mussolini's mistress Margherita Sarfatti smuggling art to Rockefeller and Hearst. He adds the fictional characters of steel magnate Hall and his countess wife pursuing their own agendas. He puts in a ventriloquist to represent something about the decline of vaudeville.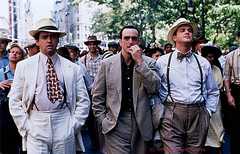 MacFadyen, Azaria, Elwes

He has Marc Blitzstein seeing the ghosts of his recently deceased wife (Eva Goldbeck died in May 1936 of anorexia) and his mentor Brecht (who did inspire Blitzstein with the challenge: "Why don't you write a piece about all kinds of prostitution - the press, the church, courts, the arts, the whole system?" but no mention of Blitzstein's homosexuality. William Randolph Hearst is again an evil capitalist and Robbins does a slanderous injustice to the character of Marion Davies, as Orson Welles did to Susan Alexander/Marion Davies in Citizen Kane. Elwes and MacFadyen play Houseman and Welles as caricatures of pomposity, and little is learned about their historical significance. There are only vague references to Mussolini, Ethiopia, the Spanish Civil War, the WPA, FDR, Harry Hopkins, the Living Newspaper. It is not surprising that Stanley Kaufmann who lived in those times has written that the film "is a mess."
Links:
Books and Articles:
Bentley, Joanne. Hallie Flanagan: a life in the American theatre. New York : Knopf, 1988. 436 p., [12] p. of plates : ill. ; 25 cm. Includes index Bibliography: p. [407]-426. Subject: Flanagan, Hallie, 1890-1969 Theatrical producers and directors -- United States -- Biography Dramatists, American -- 20th century -- Biography. ISBN 0394570413. CL Book Stacks 792.023 F583zb
Cannistraro, Philip V. and Brian R. Sullivan. Il Duce's Other Woman. New York: Morrow, 1993. 685 p. : ill. ; 24 cm. Includes bibliographical references (p. [659]-662) and index. Subject: Sarfatti, Margherita, 1880-1961 -- Biography Authors, Italian -- 20th century -- Biography Jews -- Italy -- Biography Mussolini, Benito, 1883-1945. ISBN 0688062997 -- CL Book Stacks 945.091092 S244zc
De Hart, Jane Sherron. The Federal Theatre, 1935-1939; plays, relief, and politics. Princeton University Press, 1967. 342 p. illus., ports. 23 cm. Bibliography: p. 315-331. Subject: Federal Theatre Project (U.S.). CL Book Stacks 792.0973 D322f 1983
Flanagan, Hallie. Arena; the history of the Federal Theatre. New York: B. Blom, 1940, 1965. 475 p. illus. 24 cm. Bibliography: p. 439-447. Subject : Federal Theatre Project (U.S.) American drama -- 20th century -- History and criticism. CL Book Stacks 792.0973 D583e
Goodman, Walter. The Committee; the extraordinary career of the House Committee on Un-American Activities. New York, Farrar, Straus, and Giroux, 1968. 564 p. illus., ports. 25 cm. Foreword by Richard H. Rovere. Bibliography: 549-550. Subject: United States. Congress. House. Committee on Un-American Activities. CL Book Stacks 328.365 G653c
Gordon, Eric A. Mark the Music: the life and work of Marc Blitzstein. New York: St. Martin's Press, 1989. 605 p. : ill. ; 25 cm. Includes bibliographical references "List of Works by Marc Blitzstein": p. [575]-579. Subject : Blitzstein, Marc Composers -- United States -- Biography. ISBN 0312026072 LC -- UCSD Music ML410.B6515 G7 1989
Gustaitis, Joseph. "The Cradle that Rocked America." American History, Feb. 2000, p. 16-23.
Kauffmann, Stanley. "Listening Again." New Republic, Jan. 10, 2000, p. 26-27.
Schiff, David. "'30s Politics Electrify 'Cradle' Movie, Explores Era of Social Unrest," The Arizona Republic, Dec. 12, 1999, p.
---
page 1 2 3 4 5 6 7 8
---
History Department | Filmnotes | revised 3/27/03 by Schoenherr