Decline of the Movie Palace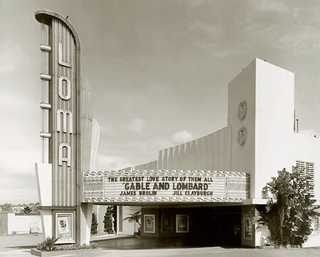 Loma Theater in 1976, photo from SDHS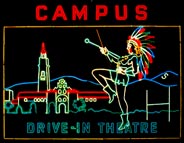 Campus Drive-In sign, from ISA - moving

1945 - The last of the movie palaces were built during World War II. The Loma Theater on Rosecrans in San Diego was planned in the late 1930s but did not open until May 5, 1945, with 1188 seats (closed 1987). For the next 20 years, most new theaters would be small neighborhood houses such as the Vogue that opened in downtown Chula Vista in 1945 with 650 seats.

1948 - The Campus Drive-In near San Diego State University opened with a 46-foot-high neon majorette, charged 50 cents admission and gave out free popcorn. The drive-in grew in popularity as cars and suburbs shifted population away from center cities; the number of drive-ins would peak at 5800 in the mid-1960s.

1953 - The 1928 Byrd Theater in Richmond replaced its original 20 x 15 ft. screen with a Cinemascope screen, and its old monophonic sound system with a 4-channel system used by Cinemascope films. (Byrd Theatre)

1958 - Movie revenue fell below $1 billion for the year. Hollywood made 400 films per year, declining to 200 per year by 1970.

1961 - The Mission Valley Shopping Center became a suburban magnet pulling stores and theaters away from downtown San Diego. The single-screen Cinema 21 with 975 seats was built in 1963 west of the Stardust Hotel in Mission Valley, and the Valley Circle theater opened in 1966 next to the shopping center. The great Cinema Grossmont with 992 seats was an anchor for the Grossmont Shopping Center in 1963.

1962 - The single-screen Cinerama with 940 seats opened south of San Diego State University (closed 1988).

1963 - The Cinerama Dome on Sunset Boulevard in Hollywood opened Nov. 7 with the film "It's a Mad Mad Mad Mad World" (filmed in the single-lens 70mm Ultra Panavision format, not the true 3-lens Cinerama process). This theater was the world's only concrete geodesic dome and and featured an 86-foot-wide, 32-foot-tall screen. But Cinerama was already a dead format in 1963, and construction ended of specialized Cinerama theaters such as the the Cooper Cinerama in Denver and the Martin Cineramas in St. Louis and Seattle.
The Suburban Multiplex
1963 - Stanley H. Durwood became the father of the multiplex movie theater when he opened two side-by-side theaters with 700 seats at Ward Parkway Center in Kansas City; he went on to lead AMC Entertainment to become the third-largest movie theater company in the nation. His father Edward Durwood was the founder of the American Multi-Cinema, Inc. (AMC) chain in 1920 Kansas City.
1964 - The 1924 Orpheum in downtown San Diego was demolished to make room for a bank. Thousands of ornate classic theaters in America's urban centers would fall the wrecking ball in the next 25 years.
1973 - The Hahn Co. built the Parkway Plaza shopping center in El Cajon that included a three-screen United Artists theater (closed in 1989).
1975 - Movie revenue rose to over $2 billion for the year, marking a general rise in revenue for the next 20 years, reaching $6 billion in 1997.
1981 - Fox Theatre in St. Louis, one of the two "Fabulous Foxes" (Detroit 1928 , and St. Louis 1929, both by C. Howard Crane), was restored by Leon and Mary Strauss (The Fabulous Fox)
1982 - Pacific Theaters opened a triplex in the expanded Grossmont Shopping Center, and continued to operate the older single-screen Cinema Grossmont.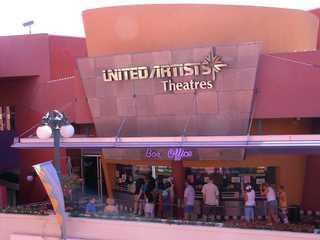 United Artists in Horton Plaza 2002
1985 - a United Artists seven-screen movie theater opened in Horton Plaza, a new downtown shopping center built by Ernest Hahn in San Diego.
1987 - AMC opened the Century City multiplex in west Los Angeles, with large screens and free parking and comfortable seats with cup holders in the armrests. Similar multiplex centers followed in the Universal Citywalk and Old Pasedena and the Third Street Promenade in Santa Monica.
1988 - Detroit's Fox theater of 1928, one of the two "Fabulous Foxes" (Detroit 1928 , and St. Louis 1929, both by C. Howard Crane), was restored by Mike and Marion Ilitch, owners of Little Caesar's Pizza (Detroit News article).
1989 - Paramount Theatre of 1929 in Anderson, Indiana, one of the 12 Eberson atmosphereic theaters still surviving of 120 designed, was restored with one of 3 survivng Grande Page pipe organs (Paramount Theatre).
1989 - The Cinemapolis on La Palma Avenue in Anaheim Hills was the first 10-screen multiplex theater in northern Orange County; over the next decade, the addition of 500 screens would make Orange County one of the top 10 markets in the country with the most movie theaters per capita.
1991 - The 1926 El Capitan on Hollywood Boulevard across the street from the 1927 Grauman Chinese Theater was restored by Disney. In November, the Landmark five-screen multiplex opened in the Hillcrest Cinemas in San Diego.
1992 - Americans With Disabilities Act required movie theaters provide access and space for wheelchairs, in proximity to normal buddy seats for friends of disabled patrons.
The Megaplex
1995 - The first megaplex theater (defined as 16 screens or more) opened in May in Dallas with a 24-screen AMC Grand; in November, Edwards opened a 21-screen megaplex at Irvine Spectrum Center, at a cost of $27-million for 158,000 square feet with 6,400 seats and a 3D IMAX. Unlike the ealier multiplex that often were small and dingy and cramped, the megaplex theaters adopted stadium seating, once common in movie palaces of the 1930s and reborn in Belgium in 1968 where the patrons of several different languages (Dutch, French, German) needed to see the entire screen in order to read subtitles. "In many ways, the megaplex is a vast improvement over its grubby ancestor, the multiplex or mall cinema. (At a cost of as much as $1 million per screen, it damn well better be.) The multiplexes were often dingy and undistinguished, but the new megaplexes are flooded with neon, gleaming light, and rococo flourishes. Dim projection and wretched sound have been scrapped, replaced by brilliant images and pristine sound. Those cramped, uncomfortable seats, wedged row after knee-crushing row onto barely sloped floors, are now lining landfills. In their place are plush loveseats with retractable armrests and cupholders, staggered in tiered 'stadium seating' arrangements that insure that no head of big hair will ever again obstruct your view. " (Ridley, 1998)
1996 - AMC opened the largest megaplex in the nation, a 30-screen, 5700 seat theater in Ontario CA. "At the 200-store Ontario Mills Mall, a new concept called 'interactive shoppertainment' specifically targets parents, dating couples, families and kids. The lure: do everything from ogling bobcats and lizards at an on-site museum to skiing in virtual reality video game." (Wood 1999) The Ontario theaters form the anchor of location-based entertainment complex, or LBE. "The LBE turns the megaplex into the anchor of a mall-sized entertainment theme park. At Ontario Mills, the theater complex is flanked by GameWorks, a multimillion-dollar arcade from Universal, Dreamworks, and Sega that's targeted at adults, as well as a giant-screen theater patterned on IMAX's installations and an indoor attraction that combines a zoo and rides. There's also Dave & Buster's, an enormous restaurant that houses a veritable midway of rides and games of skill. The combination of all these factors has made Ontario Mills a test case for the industry--especially since AMC's rival, Edwards Theatres, built its own 22-screen dreadnought across the street. That's 52 movie screens in a single block." (Ridley, 1998)
1997 - Pacific Theatres opened a $15 million, 15-screen megaplex theater near Horton Plaza in the Gaslamp Quarter of San Diego. The megaplex was found to be a successful redevelopment tool for cities to revitalize downtown areas.
1998 - Pacific Theatres, a 350-screen circuit based in Los Angeles, opened the 5,900-seat Winnetka 20, the San Fernando Valley's largest movie venue. United Artists and ACTII Cinemas merged with Regal Cinemas for form the nation's largest chain with 5347 screens in 727 theaters. The number two chain was Carmike Cinemas with 2720 screens in 540 theaters. The 1922 Egyptian theater in Hollywood is restored by American Cinematheque (article). Regal Cinemas in January opened its Hollywood 27 in the 100 Oaks area of Nashville TN.
1999 - Loews Cineplex 42nd Street E-Walk with 13 screens opened across the street from the AMC Empire 25 in downtown New York City, creating the largest concentration of movie screens in the city, with 38 screens and 8100 seats. In downtown San Francisco, the Sony Metreon opened in June with 15 screens and 3800 seats, including an IMAX theater with a giant 100 x 80 ft. screen.
2000 - The Warner Grand in San Pedro of 1931 is purchased by the city of Los Angeles to be restored to its original Art Deco grand style of architect B. Marcus Prieca (Warner Grand Theatre)
2001 - Philip Anschutz, the sixth richest man in the nation, through bankruptcy reorganization plans gained control of the United Artists and Regal and Edwards theater chains, representing more than 20 percent of U.S. theaters.



The site in Mission Valley was the 975-seat Cinema 21 from 1963 to 1998 west of the Stardust Hotel, then after 1998 used for a church, and in 2005 remodeled as an extension of the Handlery Resort.
Sources:
American Picture Palaces from University of Virginia
Cook, David A. Lost Illusions: American cinema in the shadow of Watergate and Vietnam, 1970-1979. New York : Charles Scribner's Sons, 2000.
Drive-In Theatre from Tim Thompson
Gomery, Douglas. Shared Pleasures: a history of movie presentation in the United States. Madison, Wis. : University of Wisconsin Press, 1992.
Margolies, John and Emily Gwathmey; prologue by Harold Ramis. Ticket to Paradise: American movie theaters and how we had fun. Boston : Little, Brown, 1991.
Monaco, Paul. The Sixties, 1960-1969. New York: Charles Scribner's Sons, 2001.
Prince, Stephen. A New Pot of Gold: Hollywood under the electronic rainbow, 1980-1989. New York : Charles Scribner's Sons, 2000.
Ridley, Jim. "Attack of the Megaplexes," Weekly Wire, May 11, 1998
Schatz, Thomas. Boom and Bust: the American cinema in the 1940s. New York: Scribner's, 1997.
Wood, Daniel B. "Mall is awesome no more," Chicago Sun-Times, March 21, 1999 - article
---
revised 9/25/05 by Schoenherr | Filmnotes