Evolution of the Shopping Center
---
Garden City
The antecedents of the modern shopping center were the ancient agoras and medieval piazzas of European cities. The industrial revolution of the nineteenth century produced the department store but made cities crowded and dirty, and the desire to improve life by moving away from the city gave birth to the suburb and shopping mall.


1842 Andrew Jackson Downing described English "Landscape Gardening" with "curvilinear" layouts in his Cottage Residences book, and inspired his disciples such as Frederick Law Olmsted and Calvert Vaux to improve city life with parks and gardens.

1888 The electric streetcar developed in Richmond VA made possible "streetcar suburbs" and decentralized commercial centers.

1891 Edward Bouton built Roland Park near Baltimore that included a "store block" arranged in a linear pattern along a street to serve the commercial needs of a planned residential community. Similar store blocks were built in Los Angeles 1908 for the College Tract on West 48th St.

1898 Ebenezer Howard in Britain published To-morrow: A Peaceful Path to Real Reform on garden cities to escape the industry and crowding of large urban centers, led to the building of Letchworth.


Automobile Center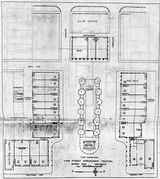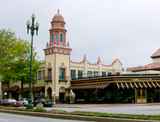 Country Club Plaza in 2001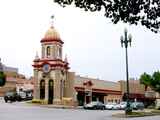 Country Club Plaza in 2001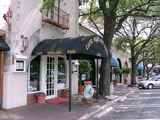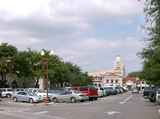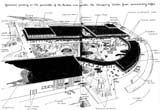 1916 Chicago architect Arthur Aldis persuaded wealthy residents of Lake Forest, Illinois, and investors such as Cyrus H. McCormick, Jr., to form the Lake Forest Improvement Trust to build Market Square, an integrated shopping complex of 28 stores, 12 office units, 30 apartments, gymnasium, clubhouse and landscaping. According to Richard Longstreth, "The automobile was a central factor in this planning, since most Lake Foresters had cars at an early date. Market Square was perhaps the first business district to be laid out specifically to accomodate motor vehicles." (p. 152) The National Register of Historic Places has listed Market Square as the first planned shopping district in the United States.

1922 J. C. Nichols created Country Club Plaza on the outskirts of Kansas City, Missouri, as an automobile-centered plaza built according to a unified plan rather than as a random group of stores, owned and operated by a single entity who leased space to tenants. Nichols would make the term "shopping center" popular to describe such commercial sites built for to the automobile.

1924 Palos Verdes on 16,000 acres of the Pacific coast west of Los Angeles became one of the largest planned communities in the U.S., designed by Charles H. Cheney with the Olmsted brothers who proposed a network of idealized Mediterranean-style market centers, but the Great Depression delayed construction until the 1940s.

1928 Don M. Casto opened Grandview Avenue Shopping Center in Columbus, Ohio, with 4 supermarkets (Piggly-Wiggly, A&P, Kroger, Polumbos) and 20 other stores and parking for 400 cars. Grandview became a model for the auto-accessible strip mall. In New Jersey, Radburn was built as a planned city with parks and walkways and decentralized shopping areas.

1929 Westwood Village opened as a shopping center for the "second Hollywood" of Westwood built on the site of the 3300-acre Rancho San Jose de Buenos Aires between Beverly Hills and Santa Monica, purchased in 1919 by department store owner Arthur Letts (Broadway, Bullocks), and developed by his son-in-law Harold Janss as a housing tract after 1922, including the sale of 384 acres to UCLA in 1926 for a university campus that opened 1929, and a shopping center of 34 stores in 1929 that grew to 452 stores by 1939.

1930 Strawbridge & Clothier department store in Philadelphia built a branch store at Suburban Square in Ardmore on the Main Line. In many cities, department stores became the leading force in building suburban shopping centers.

1931 The Highland Park Shopping Village designed by Hugh Prather in Dallas was a Mediterranean-style shopping center with storefronts facing an inner parking lot.

1935 Greenbelt, Maryland, was built by the New Deal as a planned community including stores, but not organized as a shopping center.

1938 - Silver Spring Shopping Center in Silver Spring, MD, was an early neighborhood center of 19 stores anchored by a grocery store and the Silver Theatre, with an off-street parking lot, designed by John Eberson.

1939 The Wisstein Brothers and Surval project opened on South Broadway in Los Angeles, a neighborhood center that appealed to chain stores such as the drugstore (Owl, Sontag, Thrifty) and the supermarket (Von's, Ralphs) and the variety store (Kress, Woolworth, Newberry) seeking to build away from urban congestion on well-travelled streets accessible by automobile, each center providing a small parking lot for 100-300 cars.

1943 Linda Vista Shopping Center in San Diego was built by the Department of Treasury for the government housing project that served Reuben Fleet's Consolidated Aircraft workers in World War II, and it was one of the first shopping centers designed as a unique space, separate from the streets and the houses, using a hollow square design for 82,000 sq. ft. on a block of land with landscaped green and pedestrian walks, but limited parking space for only 216 cars. Similar shopping centers would be developed in World War II for defense housing projects, such as Westchester in Los Angeles and Willow Run in Detroit.


Suburban Center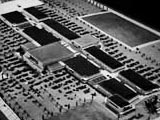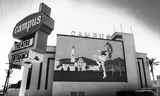 Campus Drive-In 1947 from SDHS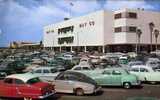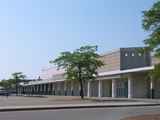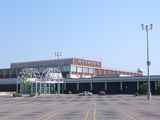 Hudson's in Northland Center in 2001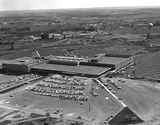 Southdale in 1956 from MHS
Mission Valley Shopping Center 1961, from SDHS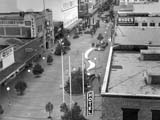 Fulton Street 1965, from Bee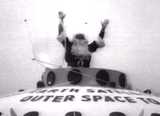 1946 Abraham Levitt's Levittown on Long Island pioneered the post-war era of mass-produced low-cost housing tracts located in automobile suburbs and satellite cities on the edge of large urban centers.

1947 The Broadway-Crenshaw Center opened in south Los Angeles in November, with 550,000 sq. ft., 13 acres parking, anchored by a Broadway department store, Woolworth variety store, and Von's supermarket. Known today as the Baldwin Hills Crenshaw Shopping Plaza, it remains in operation as the oldest regional shopping center in the U.S.

1947 The North Shore Center opened near Beverly MA to serve as a regional shopping center for the Boston area, designed by Kenneth Welch as a village green with stores surrounding a 100-ft. landscaped central open area.

1949 Don M. Casto opened the Town & Country in the suburb of Whitehall east of Columbus: "Nighttime shopping was inaugurated at Town & Country Shopping Center in Columbus, Ohio, when developer Don Casto hired Grandma Carver (a woman who dived from a 90-foot perch into a 4-foot pool of flaming water), to perform her act in the lighted parking lot, bringing shopping center promotion to a new level." (ICSC 2000)

1950 Northgate opened near Seattle on April 21, the first regional shopping center defined as a "mall." Anchored by a Bon Marche department store, it provided 800,000 sq. ft. for stores arranged in a linear pattern along a 44-foot wide pedestrian walkway, or "mall" that would become the center spine of all future regional shopping centers. The word came from the British game of pall-mall, or "ball and mallett" combining elements of croquet and golf, played since the 1500s on a wide fairway green.

1950 The drive-in grew in popularity as cars and suburbs shifted population away from center cities; the Campus Drive-In near San Diego State University featured a 50-foot-high neon majorette.

1951 Valley Plaza opened as the first shopping center designed to be built near major freeways, anchored by a Sears store, located in the rapidly growing suburbs of the San Fernando Valley north of Los Angeles.

1952 Lakewood Center opened 7 miles north of Long Beach near a Douglas Aircraft factory as one of the largest shopping malls in Southern California, with 100 stores and parking for 12,000 cars on 154 acres, anchored by a 350,000 sq. ft. May Co. department store with 2 supermarkets at each end of the linear center. In the next 8 years, 13 other regional malls would be built in the Los Angeles area.

1953 Cherry Creek Shopping Center in Denver opened, planned by architect Temple Buell since 1946, under construction since 1950, anchored by Denver Dry Goods on one side of First Avenue and in 1954 by Buell's metal-trimmed Sears Roebuck store on the other side of First Avenue.

1954 Austrian-born Victor Gruen designed Northland, near Detroit, with 110 stores in 1,192,000 sq. ft. on 2 levels, in a cluster arrangement surrounded by parking lot, modeled on the agora, the town squares of ancient Greece. "Gruen, a refugee who had fled the Nazis and arrived in New York in 1938 with $8 in his pocket and little more than his T-square in his luggage, had worked on some of those early open-air shopping centers. Then Detroit's J. L. Hudson department store chain commissioned him to design a center 8 miles away from its flagship downtown store to take advantage of the recent suburban developments spawned by the city's postwar expressways. In 1954, when it opened, the Northland Center was the world's largest shopping mall." (US News 12/27/99)

1956 Victor Gruen's 95-acre two-level Southdale Center Mall opened Oct. 8 in Edina, MN, near Minneapolis, the first fully enclosed shopping center, with a constant climate-controlled temperature of 72 degrees, inspired by the design of the Galleria Vittoria Emanuele designed and built by architect Giuseppe Mengoni 1865-77 in Milan, Italy. In Maryland, James Rouse opened in October the Mondawmin Mall west of Baltimore.

1957 International Council of Shopping Centers was founded with a membership of 36. The first chairman of the ICSC Board was Leonard L. Farber who had developed suburban strip centers from his New York company headquarters. Albert Sussman was elected the ICSC president 1958-86.

1958 Interstate Highway 8 opened in February, through Mission Valley in San Diego. The Mission Valley Shopping Center followed in 1961, the 975-seat Cinema 21 in 1963, San Diego Stadium in 1967 for the Chargers and SDSU Aztecs football teams (renamed for San Diego Union sports editor Jack Murphy in 1981; renamed Qualcomm in 1997), and in1968 the stadium became home of the former minor-league Padres, newly reborn as a Major League Baseball team.

1959 Burdick Mall opened in Kalamazoo, a downtown pedestrian mall designed by Victor Gruen who believed shopping centers could revitalize declining urban centers in the United States. The USIA selected Kalamazoo as the All-American City for 1959 with a traveling exhibit in Europe. The success of the Burdick Mall inspired a national craze for downtown pedestrian malls.

1962 - Victor Gruen designed the downtown Midtown Plaza for Rochester, NY, opened April 1962, on 7 acres with 2 department stores, McCurdy's and Forman's, at a cost $35 million, "the single largest private investment in America's downtown retailing since World War II " (Hardwick p. 201) Gruen's Randhurst Shopping Center in Mount Prospect near Chicago also opened this year, considered at that time the world's largest shopping center with 1 million sq ft and 3 department stores under a giant dome.

1963 Stanley H. Durwood became the father of the multiplex movie theater when he opened two side-by-side theaters with 700 seats at Ward Parkway Center in Kansas City; he went on to lead AMC Entertainment to become the third-largest movie theater company in the nation.

1964 Ghirardelli Square opened in San Francisco in renovated chocolate factory buildings from 1893, one of the first urban specialty malls. The Fulton Street downtown pedestrian mall opened Sept. 1 in Fresno, California, "a pedestrian oasis with its fountains, cascades, pools, brooks and excellent sculptures was admired by architects around the world." (UNHCR)

1967 South Coast Plaza opened in Orange County's South Coast area, grew to175 shops with 6 department stores and 2,000,000 sq ft after expansion in the 70s including theme restaurants such as the 20th Century Limited Dining Car Restaurant and Station Saloon.

1967 Ernest W. Hahn opened his first regional shopping center, La Cumbre Plaza in Santa Barbara, California. In Maryland, the Rouse Company built the planned community of Columbia and made it the headquarters of the company. The Rouse Company became one of the largest mall builders in the East, as the Ernest Hahn Company would become in the West.

1968 Montomery Mall opened as the first regional shopping center in the Washington DC area, followed by Tysons Center in 1969, Landover Mall in 1972 that was reborn in late 70s as "the first successful black shopping mall in suburbia" (Kowinski p.160). Other DC malls included Springfield Mall, Lake Forest Mall in Gaithersburg, Fair Oaks Mall in Fairfax, and White Flint in 1977 in North Bethesda MD.


Festival Marketplace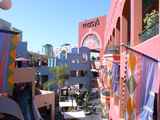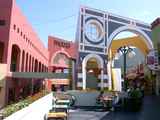 1969 For the city's 200th anniversary, the San Diego City Council approved an urban renewal study with a downtown shopping center that became Horton Plaza, designed by Jerde Architects in 1975 and built by Ernest Hahn, opening in 1985, with a United Artists seven-screen movie theater.

1970 John Portman in Atlanta designed and built the Hyatt Regency, one of the first urban "megastructures" with large open interior lobby and shopping complex.

1972 After 20 years of steadily expanding construction, the United States had a total of 13,174 shopping centers.

1973 The Hahn Co. built the Parkway Plaza shopping center in El Cajon that included a three-screen United Artists theater (closed in 1989).

1974 Westminster Mall opened south of Los Angeles, the last regional mall built with a huge central court.

1975 Fox Hills Mall opened in Los Angeles, the first 3-level mall in Calfornia. Westwood Mall opened near Houston.

1976 Faneuil Hall Marketplace in Boston, built by Rouse Co. , following ideas of Ben Thompson, opened Aug. 26, on the 150th anniversary of the dedication of the original Quincy Market, and was one of the first "festival marketplaces" that centered on food and retail specialty items, causing a revival of older urban downtowns. In Chicago, the nation's first urban vertical mall, Water Tower Place, opened on Michigan Avenue in Chicago with stores on 7 levels open to an atrium with 3 glass-enclosed elevators, a 22-story hotel, and 40 stories of condominiums.

1977 - Roy Ramond founded Victoria's Secret lingerie store in San Francisco, and after being sold in 1982 to The Limited corporation, expanded rapidly into shopping centers, with 1000 stores by 2005.

1980 Harborplace opened in downtown Baltimore, following the example set by Faneuil Hall, with new buildings constructed in an historic waterfront location, built by the Rouse Company. In San Diego, Seaport Village opened on 14 acres of bayfront downtown land, with 75 specialty shops and restaurants. These pioneering festival harborside marketplaces were followed by similar downtown malls such as Penn Landing in Philadelphia, Pickering Wharf in Salem MA, Pike's Place in Seattle, and Jackson Brewery in New Orleans.


Entertainment Center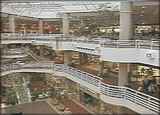 Sherman Oaks Galleria 1999 from ABC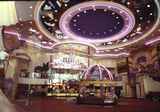 Irvine Edwards 21 in 1985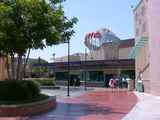 Ontario Mills AMC in 2002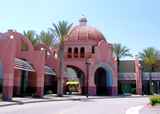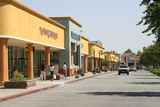 Gilroy Factory Outlets in 2004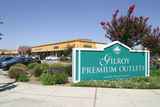 Gilroy Factory Outlets in 2004
1982 The Hollywood films and songs portrayed the female-dominant mall life-style in the San Fernando Valley. According to Gary Wayne, "The Sherman Oaks Galleria was perhaps best known as the home of the Valley Girl, since this San Fernando Valley mall was where Fast Times at Ridgemont High (1982) was filmed. And the mall was mentioned in Frank Zappa's 1982 novelty song Valley Girl ('Like totally! Ohmigod! Fershur!'). Arnold Schwarzenegger's1985's movie, Commando, was shot there too. The mall was featured throughout Fast Times at Ridgemont High, beginning with the opening scenes of the film, where we ride an elevator up to the food court where the young Sean Penn, Jennifer Jason Leigh and Judge Reinhold worked at the fast food stands. But despite its popularity in the 80's (when stars like Molly Ringwald used to shop there regularly), business at this mall had been suffering lately (since it suffered extensive damage during the 1994 Northridge earthquake), with a very high vacancy rate at last report. And it is now a part of history... (By the way, the mall where Valley Girl was filmed is still standing. Valley Girl, starring Nicolas Cage in his first hit film, was shot in the main food court of the Del Amo Fashion Center mall in Torrance, CA.)" (Gary Wayne 2002)

1987 The lifestyle concept first emerged in the late 1980s, starting with Shops of Saddle Creek in Germantown, TN, developed by Poag & McEwen in 1987, but it has really taken off in recent years. Since 2000, developers have built 84 lifestyle centers in the United States ­ nearly four times the number of regional malls built during the same period.

1989 The Cinemapolis on La Palma Avenue in Anaheim Hills was the first 10-screen multiplex theater in northern Orange County; over the next decade, the addition of 500 screens would make Orange County one of the top 10 markets in the country with the most movie theaters per capita.

1990 The decade of the 1980s saw the construction of more than 16,000 shopping centers. A Gallup poll showed Americans averaged four trips to a regional or neighborhood mall per month.

1992 Sara Donovan, founder of WalkSport America, began promoting "mall walking," later wrote book "Mall Walking Madness" in 2002.

1993 Shaheen Sadeghi built The Lab in Costa Mesa CA as an "anti-mall" from a former canning factory; and he built The Camp in 2002 in Costa Mesa for outdoor shoppers with five buildings and landscaping simulating a desert and meadow and forest, called "a shopping playground."

1994 The Westfield Company of Australia purchased CenterMark for $1 billion, giving it ownership of 19 regional malls, adding to its American properties that included the purchase of Macy's shopping centers in 1986 for $363 million. In 1998 Westfield purchased TrizecHahn to become the largest owner of regional malls in California, Maryland, and Connecticut.

1995 The first megaplex theater (defined as 14 screens or more) opened in May in Dallas with a 24-screen AMC palace; in November, Edwards opened a 21-screen megaplex at Irvine Spectrum Center, at a cost of $27-million for 158,000 square feet with 6,400 seats and a 3D IMAX.

1996 AMC opened the largest megaplex in the nation, a 30-screen, 5,700 seat theater in Ontario CA. "At the 200-store Ontario Mills Mall, a new concept called "interactive shoppertainment" specifically targets parents, dating couples, families and kids. The lure: do everything from ogling bobcats and lizards at an on-site museum to skiing in virtual reality video game." (Sun-Times 3/21/99)

1997 Pacific Theatres opened a $15 million, 15-screen multiplex theater near Horton Plaza in the Gaslamp Quarter of San Diego. Gene Kemp completed the renovation of the Fashion Valley mall in San Diego, originally built in 1969 by Ernest Hahn, increasing its size to 1,700,000 sq. ft. and 205 stores, adding 5 parking structures to accomodate 8000 cars.

2000 Factory outlet centers became one of the fastest-growing segments of the shopping center industry in the 1990s. Anderson-Little in 1936 began the first factory outlet store for its men's clothing overstock; Vanity Fair was the first multi-tenant outlet center opened 1974 in Reading PA; in 1979, Belz Enterprises opened the first enclosed factory outlet mall in Lakeland, TN, near Memphis; in 1985, Herbert S. Miller of Western Development (became Mills Corp.) opened Potomac Mills in Woodbridge, VA, the first of many "Mills" projects combining features of the shopping center with the bargain outlet store, such as Sawgrass Mills with 2,000,000 sq. ft. in Sunrise, Florida. By 1987 there were 108 factory outlet malls, by 1999 there were 278 outlet centers.

2005 According to Emil Pocock, the largest shopping center in the world was the Golden Resources Shopping Mall in Beijing, China, with 7,300,000 square feet total area. The largest mall in North America was West Edmonton Mall in Alberta, Canada, with 5,500,000 sq. ft. and 20,000 parking spaces. The largest shopping mall in the United States was Mall of America in Bloomington, Minnesota, with 4,200,000 sq. ft., parking for 12,500 cars, and a seven-acre amusement park, nightclubs, restaurants.

2006 - Otay Ranch Town Center will open in October on 85 acres off Olympic Parkway in the boomtown of Chula Vista. As a "lifestyle mall," it will combine some aspects of a regional mall with an old-fashioned town square. In its first phase, it will have 80 specialty stores, mostly upscale; possibly a Nordstrom department store; and several restaurants, including P.F. Chang's China Bistro and The Cheesecake Factory. In its second phase in 2008, it will add an additional 20 specialty stores and possibly another upper-end department store. The project will have a "Main Street" for cars to drive past or park in front of many stores. The developer is Chicago-based General Growth Properties, who have calculated that an estimated 70,000 people cross the border each day, and 63 percent of them come to shop.


---
Sources:
Andrew Jackson Downing from Frederick Law Olmstead site.
Andrew Jackson Downing from Fine Gardening.
Baltimore Streetcar Museum has picture of car 1050 in service 1898 to Roland Park.
Cherry Creek suburb and Cherry Creek Mall in Denver, Colorado
Cohen, Nancy E. America's Marketplace: The History of Shopping Centers. New York: Greenwich Publishing Group, 2003. "Author Nancy E. Cohen interviewed more than 50 pioneers, executives and influential leaders in the shopping center industry. This new publication is a joint effort by ICSC and The Greenwich Publishing Group. This hardcover coffee table book spans 160 pages and is illustrated cover to cover with colorful photographs." Online chapter from ICSC.
Dead Malls from Peter Blackbird and Brian Florence
Digital Past Project includes Market Place photos from Lake Forest Library collection
Drivein Theatre includes history with charts; Drive-in Movie Memories includes video clips from the documentary and pictures from each state; DriveinMovie.com is a focalpoint guide to drive-ins in each state
Farrell, James J. One Nation Under Goods: Malls and the Seductions of American Shopping. Washington DC: Smithsonian Books, 2003. 329 p.
Hall, Peter Geoffrey and Colin Ward. Sociable Cities: the Legacy of Ebenezer Howard. Chichester, West Sussex, England ; New York : J. Wiley, 1998.
Hardwick, M. Jeffrey. Mall Maker: Victor Gruen, Architect of an American Dream. Philadelphia : University of Pennsylvania, 2004. 276 p.
Harrison, Molly. People and Shopping: a Social Background. Totowa, New Jersey: Rowman and Littlefield, 1975.
International Council of Shopping Centers (ICSC). A Brief History of Shopping Centers. June 2000.
Hine, Thomas. I Want That!: How We All Became Shoppers. New York : HarperCollins, 2002. 222 p.
Klaffke, Pamela. Spree: a Cultural History of Shopping. Vancouver, B.C. : Arsenal Pulp Press, 2003. 231 p.
Kowinski, William S. The Malling of America: an inside look at the great consumer paradise. New York: Morrow, 1985. 415 p. Subject: Shopping malls -- United States. CL Book Stacks 381.10973 K75m.
Letchworth, the first Garden City built 1905 based on the ideas of Ebenezer Howard.
Longstreth, Richard W. City Center to Regional Mall: architecture, the automobile, and retailing in Los Angeles, 1920-1950. Cambridge, Mass. : MIT Press, 1997. 504 p. CL Book Stacks 381.10979494 L857c 1997.
Lukas, Paul. "Our Malls, Ourselves," Fortune 150, October 18, 2004.
Macfadyen, Dugald. Sir Ebenezer Howard and the Town Planning Movement. Cambridge: M.I.T. Press, 1970.
"Mall is awesome no more," Chicago Sun-Times, March 21, 1999.
"Mecca for Suburbanites, A" US News, Dec. 27, 1999.
Pocock, Emil. Shopping Mall Studies. American Studies at Eastern Connecticut State University. (October 1, 2005)
Underhill, Paco. The Call of the Mall. New York : Simon & Schuster, 2004. 227 p.
Victor Gruen, UNHCR (United Nations High Commissioner for Refugees) Gallery of Refugees.
Virtual Greenbelt from the American Studies program at the University of Maryland-College Park
Wayne, Gary. The Sherman Oaks Galleria. 2002
Westfield corporate history (chapters in PDF)
Workman, Nancy V. "From Victorian to Victoria's Secret: The Foundations of Modern Erotic Wear." Journal of Popular Culture. Vol. 30, Fall 1996, 61-73.
Zepp, Ira G. The New Religious Image of Urban America: the Shopping Mall as Ceremonial Center. Niwot, CO: University Press of Colorado, 1997. 212 p.
---
Citation: Schoenherr, Steven E. Evolution of the Shopping Center. http://history.sandiego.edu/gen/soc/shoppingcenter.html [Feb. 17, 2006]