War of the Worlds
Produced by Paramount Pictures and DreamWorks SKG, released June 29, 2005, budget of $128 million, gross of $6 million, color 35mm negative, 1.85:1 screen ratio, digital sound, 116 mins.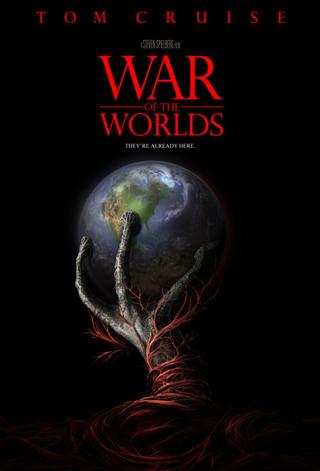 2005 poster -
trailer
with Wellsian narrative
Production:
Directed by Steven Spielberg
Screenplay by Josh Friedman and David Koepp, based on the 1898 novel by H.G. Wells and the 1938 radio script by Koch
Produced by Kathleen Kennedy, Paula Wagner, Colin Wilson
Original Music by John Williams
Cinematography by Janusz Kaminski
Film Editing by Michael Kahn
Production Design by Rick Carter
Sound Design by Michael Babcock, Randy Thom
Cast:
Tom Cruise as Ray Ferrier
Justin Chatwin as Robbie Ferrier
Dakota Fanning as Rachel Ferrier
Tim Robbins as Ogilvy
Miranda Otto as Mary Ann Ferrier
David Alan Basche as Tim
Yul Vazquez as Julio
Daniel Franzese
James DuMont
Gene Barry
Ann Robinson
In Print
H. G. Wells wrote the original story in 1896 England, serialized it the next year in Pearson's Magazine in England and Cosmopolitan in the United States, and published it as a novel in 1898. Although the term "science fiction" would not be used until 1929, Wells popularized a new genre used by the magazines and newspapers and publishers of the New Journalism to attract a growing mass readership.
On Radio
Orson Welles produced the story as a radio broadcast on October 30, 1938, that caused a panic among millions of listeners who thought it was a real news bulletin during a time of growing fear of Hitler and his Anschluss in Europe.
In Technicolor
George Pal produced the story as a Technicolor film in 1953 during the UFO craze and the growing popularity of science fiction films in postwar Hollywood.
On LP Record
Jeff Wayne produced the story as a musical in 1978, and released it as a double LP album June 9 at the London Planetarium. It became a double platinum hit and has sold 13 million copies worldwide. It followed H. G. Wells's novel closely, with Richard Burton as the narrator. The first album had 5 songs for "The Coming of the Martians" and the second album had 7 songs for "The Earth Under the Martians." The song "The Eve of War" was released as a single in 1989 and became a best-seller. In 1995 the double LP was re-released as a double CD remastered with the new technology of digital sound. In 1999 GT Interactive licensed Wayne's production for a PC computer game "Jeff Wayne's War of the Worlds" that was released in April for Pentium 166 computers running Windows 98. Wayne is developing a computerized film version of his musical to be released in 2007.
On TV
Edward R. Murrow hosted a CBS Studio One teleplay Sept. 9, 1957, titled "The Night America Trembled" that dramatized the 1938 radio broadcast. Actors for this live TV play included Warren Beatty, James Coburn, Ed Asner. A similar recreation of the 1938 broadcast was the 1975 made-for-TV movie "The Night That Panicked America" scripted by Nicholas Meyer, directed by Joseph Sargent. Paul Shenar played the role of Orson Welles, with supporting roles by John Ritter and Meredith Baxter and Tom Bosley. A third television variation was developed by Greg Strangis who produced a TV series that lasted for 2 seasons from 1988 to 1990 in 44 episodes. Alien bodies that were preserved in barrels after the 1953 invasion are awakened by radiation and three leaders form the alien group known as The Advocacy (the triad theme continued from George Pal's 1953 film). Dr. Harrison Blackwood whose parents died in 1953 Los Angeles leads a government team to combat the aliens. In Episode 2 "Thy Kingdom Come," Ann Robinson reprised her 1953 role as Sylvia Van Buren, although she is now a patient at the Whitewood Mental Health. Her psychic abilities help the Blackwood Team track the aliens to Canada (where most of the episodes were filmed). Episode 4 "Eye for an Eye" is set in Grover's Mill for the 50th anniversary celebration of the 1938 radio invasion.
On Widescreen
Steven Spielberg produced the story on widescreen film with digital sound, released by Paramount June 29, 2005, with Tom Cruise survivng lightining strikes, giant tripods buried under New Jersey, a violent mob that steals his car, a capsized ferry, the red weed that seemed to grow from blood syphoned by the aliens from human captives held in nets under the tripods.
Links:
Local:
---