Evolution of the Department Store
1838 - Aristide Boucicaut started the Bon Marche store in Paris that evolved into the first department store by 1852, displaying a wide variety of goods in "departments" under one roof at a fixed price, no haggling or bargaining, with a "money-back guarantee" allowing exchanges and refunds, employing up to 4000 with daily sales of $300,000. The department store and the restaurant would become anchors of downtown urban centers in the 19th century.

1848 - Alexander Turney Stewart built his Marble Palace at Broadway and Chambers Street in New York City, a much larger version of his dry goods store at 283 Broadway that he started in 1823. The Marble Palace sold imported European merchandise to women, offered the first "fashion shows" on the second floor in the "Ladies' parlor" with full-length mirrors. In 1862 Stewart built a true department store at Broadway and 9th near Grace Church, the Cast Iron Palace, with 8 floors on 2.5 acres, up to 2000 employees. The 19 departments included "silks" and "dress goods" and carpets and toys and sports. A great glass dome skylight covered the central rotunda of the grand emporium. Organ music entertained customers, including First Lady Mary Lincoln whose compulsive clothes buying ran up $27,000 in bills by 1865. A. T. Stewart's 1862 store caused other stores with cast-iron facades to be built on the cobblestoned "Ladies Mile" of lower Broadway between 8th and 23rd Streets, including Lord & Taylor, Arnold Constable, Siegel-Cooper, James McCreery, Simpson-Crawford, LeBoutellier, and Stern Brothers. The Cast Iron Palace was demolished but an extension built for John Wanamaker in 1902 survives at Broadway and 9th, designed by the same Daniel Burnham who built the Flatiron Building in 1902 at 23rd and Fifth Avenue.

1858 - Rowland Hussey Macy was a Nantucket Quaker and whaler who failed several times as a store owner until he founded a "fancy dry goods" store in New York City on 6th Avenue near 14th Street in 1858. He began selling at a fixed price for cash, discounted and advertised his merchandise. The red star tatooed on his hand as a 15-year old boy on the whaling ship Emily Morgan became the symbol of the new store. In 1866 he bought an adjoining building for expansion, and by 1872 owned four buildings and by his death in 1877 owned 11 buildings. He was one of the first owners to employ women executives, and Margaret Getschell rose from cashier in 1866 to store superintendent and husband of one of the owners. In 1887 Isidore and Nathan Straus became part owners, and bought full control in 1898. The Strauses moved the store from 14th Street to Herald Square, and in 1902 built a new store on this site where Koster & Bial's Music Hall once stood and where Thomas Edison first projected his Vitascope motion picture. The new Macy's store was proclaimed "the largest store on earth" with 9 stories and 33 elevators and 4 escalators and pneumatic tube system. This structure grew 30 stories covering an entire city block by 1924. With a "6% less for cash" policy it attracted thousands of customers. By 1977 Macy's was the nation's 5th largest department store chain with 76 stores, sale over $1.6 billion, and full ownership of 5 regional shopping centers and 50% interest in 3 other centers.

1869 - Zion's Cooperative Mercantile Institution opened March 1, 1869, in Salt Lake City. The Mormons did not want to be at the mercy of non-Mormons who ran the railroads and wagon trains through the town. Brigham Young arranged for Mormon merchants to join together and create a new community store that became the first incorporated department store in America by 1870. A new 3-story brick and iron store was built in 1876, noted for its unique architecture and striped awnings. This store was replaced by an enclosed shopping center in 1973, and the new Zion department store preserved the gilt-edged ornate facade of the old store. In 1999 the May Department Stores bought a 14-store ZCMI chain and changed its name to Meier & Frank, a May property with eight stores in Oregon and Washington.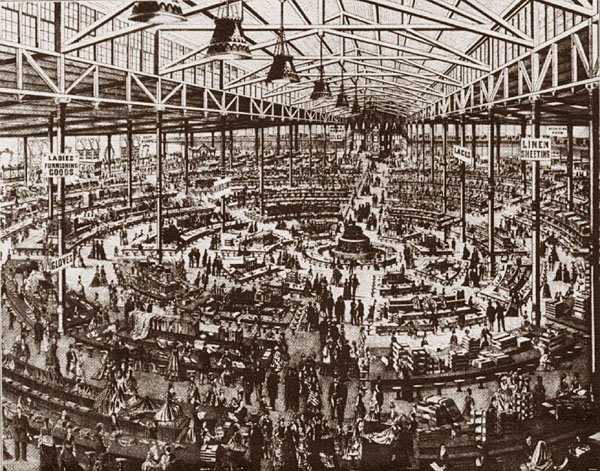 interior of Wanamaker's Grand Depot ca. 1876, from Gibbons
1876 - John Wanamaker started his Oak Hall Clothing Bazaar in Philadelphia at Market and 5th Street in 1861. He expanded the store with aggressive promotions and advertising that earned him the titles of "Merchant Prince" and "The Father of Modern Advertising" including balloons, giant posters, and a gong inside the front door. By 1876 he had built a department store on the site of the vacant Pennsylvania Railroad Freight Depot. His original idea was to open a central market of cooperating merchants similar to London's Royal Exchange and the Halles Central in Paris. But in the new era of urban mass consumption, it became a "New Kind of Store," called the Grand Depot, with skylights and gas chandeliers in "the largest space in the world devoted to retail selling on a single floor." At the center of a series of expanding circles of 129 counters was the gaslit tent for the demonstration of elegant women's ballroom fashions. In 1896 Wanamaker bought the old A.T. Stewart Cast Iron Palace in New York and connected it with a "Bridge of Progress" to a new 16-story building next door. In 1903 he built a new store in Philadelphia on the site of the old Grand Depot, 12 stories of granite with an interior Grand Court 150 feet high. In this court was the second largest organ in the world, after the Auditorium organ in Atlantic City, and a great eagle from the 1903 St. Louis World's Fair. "Meet me under the eagle at Wanamaker's" became a familiar invitation in Philadelphia.
John Wanamaker as 1889 Postmaster-General, Duke's Cigarettes Poor Boys booklet, D0013-06 from Duke

Wanamaker's 1902 Grand Depot, from Gibbons

Wanamaker's 1903 Philadelphia store, from Gibbons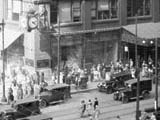 View of pedestrians walking and automobiles and streetcars moving past the Marshall Field and Co. store, located at 111 North State Street in the Loop community area of Chicago. In this image, cars are passing through the intersection of Washington and State Streets, and traffic is waiting on State Street. The view is from the south looking at the northeast corner of Washington and State Streets, 1926, from LC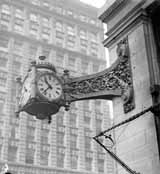 Marshall Field & Company clock on State Street in the Loop community area of Chicago 1908, the hands on the clock are at 10:37, from LC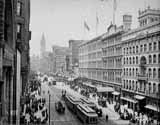 Market Street from Eighth, Philadelphia, buildings at right: Strawbridge & Clothier, 1904, from LC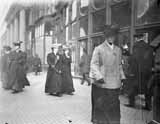 Christmas shoppers, two women smiling and walking past the store windows of Marshall Field's department store on State Street, Dec. 1905, from LC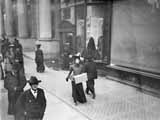 Christmas shoppers, a woman holding a parcel and walking past a covered store window at Marshall Field's department store on State Street, Dec. 1905, from LC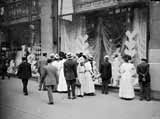 Looking into a Marshall Field & Co. department store window in Chicago's Loop, 1910, from LC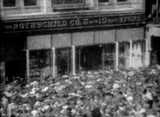 Bargain day at Rothschild Co. 5 and 10 cent store on 14th St. in NY, 1905 - play film
1865 - Marshall Field in 1865 joined Levi Leiter to purchase the old Potter Palmer store on Lake Street in downtown Chicago, promised to "Give the Lady What She Wants" with low fixed prices, pleasant clerks, and fashionable merchandise. In 1868 Field and Leiter moved to Palmer's marble-front building on State Street. After the Chicago Fire of 1871, they opened a new store in the Singer building on State Street in 1873. After another fire, Field bought out his partner and built a new store that would grow to cover an entire city block on State Street north of Madison. In 1907 a new 12-story building replaced the older store on State Street, and in 1914 an new giant 20-story Store for Men was built across the street that was, at that time, the largest department store in the world. It had more show windows than any other store, a feature that made the Marshall Field store famous in the growing "Electric City" of Chicago. The company built the Merchandise Mart in 1930, the largest commercial building in the world, that was sold to Joseph Kennedy in 1946. The Marshall Field flagship store became part of the 9-block State Street urban shopping mall in 1979, and the company operated 32-stores nationwide.

1868 - Strawbridge & Clothier opened their first store in 1868 in downtown Philadelphia on the northeast corner of Market and 8th streets, in a 3-story brick building that had been the office of Secretary of State Thomas Jefferson in 1790. The old building was soon demolished and replaced by a new 5-story department store offering a variety of goods under a single roof at a fixed price. This building was replaced by a new store in 1928, and this became one of the anchors in 1977 of The Gallery, an urban mall connecting Strawbridge & Clothier with Gimbels.

1872 - Lyman and Joseph Bloomingdale opened their first store in 1872 at 938 Third Avenue in New York, one of the first uptown department stores. The construction of the 3rd Avenue elevated railroad connected this uptown district with lower Manhattan, bringing more customers to Bloomingdales. In 1886 a new store was built at 3rd and 59th, growing to occupy the entire city block. In 1929 it was bought by Federated Department Stores.

1872 - Aaron Montgomery Ward mailed the first general merchandise catalog, a single sheet of 50 items that would grow in 30 years to 500 pages, a successful method of sales soon duplicated by Richard Sears and A. C. Roebuck with a catalog in 1893 that became America's "Wish Book."

1874 - Harrod's department store opened 1874 in Knightsbridge by Charles Digby Harrod, son of Charles Henry Harrod who had started a small grocery in London in 1849.

1877 - David May was a failed silver miner in Leadville, Colorado, when in 1877 he opened his Great Western Auction House and Clothing Store selling Levi copper-riveted pants and red woolen "longies" to the local miners. With partners Moses and Louis and Joseph Shoenberg, he opened a store in Denver in 1888, and in 1892 bought the Famous-Barr clothing store in St. Louis. In 1898 they bought a store in Cleveland and named it the May Company, moving the company headquarters to St. Louis in 1905. The May Department Stores Company was incorporated in 1910 and grew to a chain of 130 stores. The company expanded by acquiring other department stores, including Kaufmann's, Daniels & Fisher, Hecht's, Filenes, Lord & Taylor, L. S. Ayers, and Goldwaters. In 1993 it merged with J. W. Robinsons of Los Angeles to create the Robinsons-May stores. In 1996 the parent company reincorporated in Delaware under the name May Department Stores Company.

1879 - Frank Winfield Woolworth was a clerk in the Moore & Smith Corner Store in Watertown NY in1878 when he helped create a "5-cent counter" that became the inspiration for his new store that he opened in 1879 in Lancaster PA, the world's first "five-and-ten" store. As he expanded with a chain a similar stores, he borrowed the bright red storefront design from the A & P stores, and added his own diamond-W trademark. In 1911 the company merged with three others to create a 596-store chain. In 1913 the 50-story Woolworth Building became one of the most famous landmarks in New York.

1881 - Joseph Lowthian Hudson opened a small men's clothing store in Detroit . After 10 years he had 8 stores in the midwest and was the most profitable clothing retailer in the country. In 1893 he began construction of the immense department store at Gratiot and Farmer streets in Detroit. The 25-story tower was added in 1928, and a 12-story addition in 1946, giving the entire complex 49 acres of floor space. In 1954 the company became a suburban shopping center pioneer when it built Northland 13 miles northwest of Detroit. In 1969 it merged with the Dayton Corporation to create Dayton-Hudson headquartered in Minneapolis. George Dayton had founded his Dayton's Daylight store in Minneapolis in 1902 and the AMC cooperative in 1912, built the Southland Shopping Center in 1956, and started the Target discount store chain in 1962. The new corporation closed the flagship Hudson department store in downtown Detroit in 1983, but expanded its other retail operations. It acquired Mervyn's in 1978, Marshall Field's in 1990, and renamed itself the Target Corporation in 2000.

1887 - Adam Gimbel ran a trading post near Vincennes, Indiana, in the 1842, and opened a 3-story Palace of Trade in the 1870s. His sons Jacob and Isaac expanded to Milwaukee in 1887 with a modern department store, and to Philadelphia in 1894 with one of the largest stores in the country, today part of The Gallery urban mall in Philadelphia. In 1910 Jacob Gimbel opened a department store in New York one block from Macy's on Herald Square.

1888 - William Henry Belk began retailing in a small bargain store in Monroe, NC; in 1895 he opened a 3-story department store at 19 Trade St. in downtown Charlotte, with advertising that Belk Bros was the "Cheapest Store on Earth." When William's son John Belk retired in 2004, the family owned 225 stores in 14 states, and was the nation's largest privately owned department-store chain.

Next: Evolution of the Shopping Center
Sources
Abelson, Elaine S. When Ladies Go A-Thieving: Middle Class Shoplifters in the Victorian Department Store. New York: Oxford University Press, 1989.
Barth, Gunther. "The Department Store ," in City People: The Rise of Modern City Culture in Nineteenth-Century America. New York: Oxford University Press, 1980.
Benson, Susan Porter. Counter Culture: Saleswomen, Managers and Customers in American Department Stores, 1890-1940. Urbana, IL: University of Illinois Press, 1988.
Ershkowicz, Herbert. John Wanamaker, Philadelphia Merchant. New York: DaCapo Press, 1999.
Gibbons, Herbert Adams. John Wanamaker. New York: Harper & Row, 1926.
Hendrickson, Robert. The Grand Emporiums: The Illustrated History of America's Great Department Stores. New York: Stein and Day, 1979.
Schlereth, Thomas J. Victorian America: Transformations in Everyday Life, 1876-1915. New York: HarperCollins, 1991.
Spang, Rebecca L. The Invention of the Restaurant: Paris and Modern Gastronomic Culture. Cambridge, Mass. : Harvard University Press, 2000. 325 p.
Links
---
Citation: Schoenherr, Steven E. Evolution of the Department Store. http://history.sandiego.edu/gen/soc/shoppingcenter4.html [Feb. 11, 2006]