1901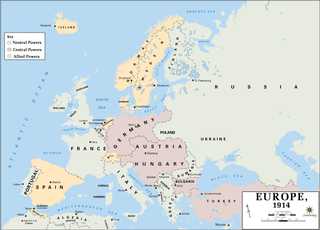 Jan. 22 - Queen Victoria died, succeeded by he son Edward VII.

May 29 - Lord Salisbury memorandum defending "splendid isolation" and opposing any alliance with Germany. But discussions began with Japan in July that would lead to a 1902 allaiance.

Sept. 14 - McKinley died from assasination, Theodoe Roosevelt became President.

Dec. 12 - Marconi sent the letter "S" by wireless across the Atlantic from Cornwall to St. John's, Newfoundland.


Links:
Sources:
Hale, Oron J. The Great Illusion, 1900-1914. New York: Harper & Row, 1971. 361 p.
Joll, James. The Origins of the First World War. 2nd ed. New York: Longman, 1992. 264 p.
Stone, Norman. Europe Transformed, 1878-1919. 2nd ed. Malden, MA: Blackwell, 1999. 339 p.
Taylor, A. J. P. The Struggle for Mastery in Europe, 1848-1918. Oxford: Clarendon Press, 1954. 638 p
---