1910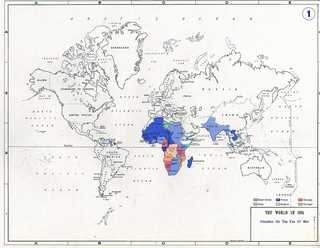 1914 Imperialism from USMA
Apr. 15 - Census reported U.S. population at 91, 972, 266.

May 6 - King Edward Vii died, succeeded by his son King George V.

Oct. 27 - British troops landed in Persia to suppress uprising.

Nov. 4 - Czar Nicholas visited Kaiser Wilhelm at Potsdam, Germany agreed to give Russia a free hand in north Persia, and Russia withdrew opposition to the Baghdad Railway.
Links:
Sources:
Hale, Oron J. The Great Illusion, 1900-1914. New York: Harper & Row, 1971. 361 p.
Joll, James. The Origins of the First World War. 2nd ed. New York: Longman, 1992. 264 p.
Stone, Norman. Europe Transformed, 1878-1919. 2nd ed. Malden, MA: Blackwell, 1999. 339 p.
Taylor, A. J. P. The Struggle for Mastery in Europe, 1848-1918. Oxford: Clarendon Press, 1954. 638 p
---