Eisenhower & the Cold War 1953-61
Man from Abilene from AMMI
"I Like Ike"
Ike golfing, from Life 1956/02/27
1st TV Cabinet Oct. 1954 from Life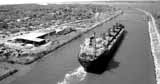 Oak Ridge National Laboratory workers checking for radioactive contaminants (circa 1950), from DOE Historical Photos
Eisenhower and Secretary of State John Foster Dulles (from left) greet South Vietnam's President Ngo Dinh Diem at Washington National Airport, May 8, 1957, from NA
Ike defeated "dinosaur" Taft for Republican nomination in 1952

Ike and Nixon defeat Adlai Stevenson and liberal John Sparkman 55%-44%, 442-89

Stevenson warned "no easy decisions" and a "long, costly, patient struggle over war, poverty, tyranny."

Ike promised no more "creeping socialism" or "20 years of treason"

3 foreign Cs = "Corea, China, Communist coddling"


Nixon called Stevenson "Adlai the appeaser... who got a Phd from Dean Acheson's College of Cowardly Communist Containment."

3 domestic Cs = Corruption, Cost of living, Change

but not Christine
election was a personal triumph for Ike and an expression of frustration over the Korean War and of Cold War paranoia.
"Modern Republicanism"
bipartisan foreign policy, cooperation with Congress

NSC-68 but lower defense budget

"vital center" without losing left or right

Bricker amendment to require Congressional approval of executive agreements defeated Feb. 26, 1954

St. Lawrence Seaway had been blocked as the "socialistic ditch" but Seaway Bill passed May 13, 1954
"Captive Nations"
Dulles on TV 1/27/53 - "You can count on us"
resolution introduced Feb. 20, and Ike urged Apr. 16 "full independence" for eastern Europe

East Berlin uprising June 17 vs. Walter Ulbricht
"Massive Retaliation"
NSC 162/2 "New Look" - deterrence or superiority?
"Waging Peace" (Bowie 1998) not coercion of NSC 68
reduce Army by 500,000, Navy by 100,000, add to AF for jets

New weapons B-47 and Nautilus and Nike

"Big Mike" 11/1/52 - 1st thermonuclear test of 10 megaton hydrogen bomb

completely obliterated Elugelab in the Marshalls

Castle-Bravo test 3/1/54 of 15 megaton bomb caused fallout on "Lucky Dragon"

Nevada Test Site 11/1/50 for 100 above-ground tests until 1963

Uranium boom 1953
Human Radiation tests

Civil Defense programs against atomic attack
"Agonizing Reappraisal"
France rejected integrated European army of 1952 European Defence Community (EDC); instead, U.S. invited Germany and Italy into 1954 Western European Union (WEU) within NATO
NATO meeting Dec. 1953
Konrad Adenauer, German chancellor 1949-63, supported by U.S.
Anthony Eden, conservative British PM 1955-57, supported by U.S. until 1956
Charles de Gaulle, founder of the 4th Republic 1945 and the Rally of the French People (RFP) 1946, retired 1953 but returned 1958 to found the 5th Republic, end Algerian war, develop own a-bomb, keep Britain out of Common Market
43 unilateral treaties signed 1949-59
regional defense pacts of NATO, SEATO, CENTO
"Disengagement"
by 1954, U.S. supporting 78% of Indochina cost

Mar. 20 - French Navarre Plan proposed by Gen. Ely

Radford, Twining proposed Op. Vulture (1-2-3 abombs)

Apr. 3 - Ike did not get 8 congressmen, British

May 7 - fall of Dienbienphu caused French pull-out

June 16 - Ngo Dinh Diem replaced Buu Loc

July 20 - Geneva Accords without U.S.

Edward Lansdale and Op. Exodus cost $93m.

Sep. 8 - SEATO signed by U.S. + 7 others

Oct. 9 - Ike's letter to Diem promised aid

Vietnam policy only advisory until 1961
Mideast policy pro-Iran, anti-Nasser
"Brinksmanship"
China shelled Quemoy 9/3/54 - 2 U.S. soldiers killed

NSC Denver meeting Sep. 12 - Ike said no bombing

Taiwan Treaty 12/2/54 - Sen. William Knowland

China shelled Tachens Jan. 1955 - pullback to Matsus

Formosa Resolution 1/28/55 - force authorized

Dulles speech Mar. 12 about "clean" nuclear strike

Ike pc Mar. 16 - bomb to "be used as you would use a bullet"

Ike pc Mar. 23 - "Don't worry, I'll just confuse them."

shelling and blockade 8/22/58 - Ike sent 7th fleet

"Peaceful Coexistence"
---
---